Dinesh Raheja
When one watches Aar Paar (1954), one rues the fact that Guru Dutt let melancholic films circumscribe his horizons in his latter years as actor-producer-director. The joie de vivre of his early films like Aar Paar and Mr & Mrs 55 is infectious. If he had alternated between the two genres -- comedy and tragedy -- the audience would probably have been more gratified. And who knows -- perhaps even Dutt's own personality would not have turned so drastically towards melancholia.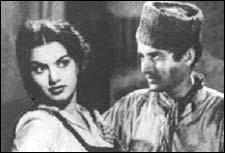 Aar Paar, a thriller that explores both light and dark shades, opens with taxi-driver Kalu (Guru Dutt) being released from jail two months before the end of his term because of his exemplary behaviour. Kalu, we learn, had been booked for rash driving. An element of intrigue is immediately brought into play when a fellow inmate requests Kalu to deliver a coded message to his boss, the underworld don Captain.
Kalu tries to find honest work, but both his employer and his brother-in-law ostracise him. The wheels of fortune get him a job in a garage that belongs to Lalaji (Jagdish Sethi).
When he is not tinkering with spanners and tyres, the tinkling laugh of Lalaji's sprightly daughter Nikki (Shyama) fills Kalu's spare hours. One day, an enraged Lalaji finds the twosome in an intimate clinch. He hits the roof and gives Kalu the boot.
CREDITS

Producer

Director

Music

Cast

Guru Dutt

Guru Dutt

O P Nayyar

Guru Dutt, Shyama, Shakila
An encounter with the mysterious Captain results in a brand new taxi and a brand new job for Kalu, who is unaware he is soon going to be part of Captain's conspiracy to loot a bank.
The director throws a red herring that would have done Agatha Christie proud by making us participate in a bank robbery sequence that eventually proves to be a trial run of the proposed heist.
Back at the garage, Lalaji's chess partner reveals Kalu's convict background. Nikki is disillusioned. She spurns Kalu when he comes over to show off his brand new Dodge, but becomes putty in his hands when he drags her to the police station and elicits a character certificate from the benign jailer.
In one of the many small touches that elevate the film, the preceding scene establishes the jailer's character -- he has just been ticked off by his senior for being partial to his prisoners.
Kalu approaches Lalaji for Nikki's hand in marriage, but Lalaji turns lal peela (gets furious). A cabaret dancer (Shakila), who is Captain's aide and has a secret crush on Kalu, advises him to elope with Nikki. Kalu flippantly decides to toss a coin to help Nikki make a decision. "Aar ya paar [This way or that]," he says, rather boorishly. Nikki agrees to elope.
On D-day, however, a nervous Nikki fails to keep her rendezvous with Kalu. After which Kalu keeps Nikki at bay, while the cabaret dancer (they forgot to give Shakila's character a name) tries to latch on to him. Kalu's sidekick Elaichi (an adolescent Jagdeep) attempts to bridge the distance between Kalu and Nikki, but Kalu's fragile male ego makes him insult Nikki.
Nikki boomerangs back into Kalu's life when Captain holds her hostage to coerce Kalu into participating in the bank robbery. The climax has the mandatory car chase (a 1950s noir staple), after which Kalu rescues Nikki.
Guru Dutt makes a bold show of non-compliance with formula in Shakila's character. She sheds a tear for the hero, but refuses to lay down her life for him or repent for her deeds at the end. Minutes before she is arrested by the police, she even fires a round of gunshots at Kalu and Nikki!
Dutt also maintains a fast and furious pace like his protagonist's speedster habits. But he shoots his scenes with care. When Shyama, after much hesitation, finally decides to elope, the director shows her racing to the door only to be fleetingly blinded by the headlights of Kalu's departing car.
Abrar Alvi's sparkling dialogues get an additional sheen from the usage of different dialects -- Rustom speaks Hindi with a Parsi touch, Lalaji resorts to rustic Punjabi, while Kalu speaks a quaint blend of Bambaiya Hindi and pidgin English ("Thank you very much, kindly").
O P Nayyar's hit songs are snugly encrusted in the film. In the title song, the director establishes the hero's fascination with the heroine with the aid of a perky number sung by a clued-in construction worker (Kum Kum). The other songs are shot in a garage, a car, a club and a zoo -- in real places, real time.
| | |
| --- | --- |
| Song | Singers |
| Kabhi aar kabhi paar | Shamshad Begum |
| Yeh lo main haari piya | Geeta Dutt |
| Babuji dheere chalna | Geeta Dutt |
| Hoon abhi main jawan | Geeta Dutt |
| Ja ja ja bewafaa | Geeta Dutt |
| Mohabbat kar lo | Geeta Dutt, Mohammed Rafi |
| Sun sun sun zaalima | Geeta Dutt, Mohammed Rafi |
In latter years, this film's assistant director, Raj Khosla, became synonymous with masterful song picturisations, just like his guru, Guru Dutt.
In his first success as a hero, a camera-friendly Guru Dutt exudes a wry casualness. Shakila, in keeping with the noirish mood of her portion of the film, is enigmatic. Shyama looks happy as a lark in the breezy moments and wistful as a pained doe in the lovelorn scenes. She makes an attractive picture in baggy garage overalls.
Sidelights:
* Raj Khosla and Guru Dutt's brother Atma Ram assisted Guru Dutt during the making of Aar Paar. Dutt gave Khosla a break as an independent director in CID (Dev Anand, Shakila, Waheeda Rahman). Atma Ram had to bide his time till 1964, when he directed Kaise Kahoon (Nanda, Biswajeet).
* For Shyama, Aar Paar was a sterling success among her many B-grade ventures. Dutt wanted Shyama for his next venture, CID, but the deal did not go through. She wanted him to increase her price. He refused and substituted her with Shakila.
Music highlights:
* This was O P Nayyar's first success. Geeta Dutt invests a lot of soul in Shakila's cabaret number Hoon abhi main jawan and animates the light numbers with her abundant vivacity. It is a treat to hear her sing the Ja ja ja bewafaa refrain in two versions -- one happy, other sad -- with such 'audible' difference.
* The Nayyar-Majrooh combination hit bull's eye again with the Guru Dutt-Madhubala starrer Mr & Mrs 55 (1955) and CID (1956).