Dinesh Raheja pays homage to the king of comedy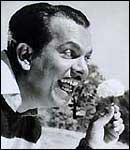 Every Johnny has his day (especially in a world where everybody is famous for 15 minutes), but Johnny Walker ruled for nearly two decades as one of Hindi cinema's most sought after funmeisters.
The man who was born Badruddin Jamaluddin Qazi on May 15, 1923, had the knack of conjuring up witty lines and funny gestures at the snap of a finger. Shyama, who teamed up with him in a spate of films (Johnny Walker, Mr John and Mai Baap to name a few), once recalled, "For the mahurat shot of Duniya Rang Rangeeli, Johnny Walker, who was dressed in woman's garb, unexpectedly gave me a light peck on my cheek. I was flustered by this impromptu gesture and lost my presence of mind for a few seconds, but quickly sensed it was one of Johnny's on-the-spot improvisations and regained my composure."
The plummy-voiced comedian was as popular in the 1950s as Johnny Lever is today, his antics providing a welcome break in dense dramas. He enlivened quite a few films of tragedy king Dilip Kumar (Naya Daur, Madhumati and Paigham in the 1950s, Dil Diya Dard Liya in the 1960s and Gopi in the 1970s) and created ripples of laughter in a 10-year-long association with Guru Dutt, beginning with Baazi and culminating with Chaudhvin Ka Chand.
| | | |
| --- | --- | --- |
| Popular songs | Film | Singers |
| Na na na tauba | Aar Paar | Geeta Dutt, Mohammed Rafi |
| Jaane kahan mera jigar gaya | Mr & Mrs 55 | Mohammed Rafi |
| Aye dil hai mushkil jeena | CID | Geeta Dutt, Mohammed Rafi |
| All line clear | Chori Chori | Mohammed Rafi |
| Gareeb jaan ke humko na tum bhula dena | Choomantar | Mohammed Rafi |
| Sar jo tera chakraye | Pyaasa | Mohammed Rafi |
| Main Bambai ka babu | Naya Daur | Mohammed Rafi |
| Jungle mein mor nacha | Madhumati | Mohammed Rafi |
| Hum bhi agar bachhe hote | Door Ki Awaaz | Mohammed Rafi |
At the age of 27, Badruddin Qazi was working as a BEST bus conductor in Bombay, regaling passengers with funny tales even as he issued them tickets. That was when he caught the eye of actor Balraj Sahni, who wrote the screenplay for Guru Dutt's Baazi.
Sahni suggested that Badruddin try his luck with Guru Dutt. Badruddin dropped in on the sets and behaved like a drunken gatecrasher. A visibly impressed Guru Dutt instantly signed him on for a bit role in Baazi (1951) and rechristened him Johnny Walker after the popular whisky brand.
With Guru Dutt by his side and his peevish voice and jaunty walk as ammunition, Johnny Walker went on to become a star.
A paean to Bombay from Guru Dutt's
CID
,
Aye dil hain mushkil jeena yahan
, was picturised on the gangly Johnny Walker and became a rage on the radio. Subsequently, distributors began insisting on songs picturised on Johnny Walker in his films like
Chori Chori
(
All line clear
),
Pyaasa
(
Sar jo tera chakraye
) and
Naya Daur
(
Mai Bambai ka babu
). While Mehmood, the comic star of the 1960s and 1970s, chose Manna Dey as his singing voice, Johnny Walker was partial to Mohammed Rafi.
A millworker's son, Johnny Walker relieved the tedium of many a run-of-the-mill film. His smile was like a band of rubber; he could  loop it up to reach his ears or let it drip from his curdled lips like Tom did when Jerry beat him to the door in the Walt Disney classic cartoons.
By 1956, Johnny's roles began to dwarf even those of some of the heroes in his films. In Choomantar he had more footage than Karan Dewan and had Anita Guha as his heroine. Johnny was even cast as hero in the ego-boosting Johnny Walker, among other films. But after a few hard knocks at the turnstiles, he realised that he was more suited to playing Cupid than the love god Eros.
Johnny married Noor at the height of his popularity and spent the morning after his honeymoon sweating it out at the studios.
Since Johnny had a timeless face, he was the first choice for Muslim socials like Mere Mehboob as well as contemporary roles like Naya Daur. His topi (cap) worked like a torpedo when it came to raising laughs. Even when pitted against top stars like Rajendra Kumar and Manoj Kumar, Johnny could tilt the scales in his favour by just a tilt of his topi or a tug at his ill-fitting sherwani.
| | |
| --- | --- |
| Year | Film |
| 1951 | Baazi |
| 1954 | Aar Paar |
| 1955 | Mr & Mrs 55 |
| 1956 | CID |
| 1956 | Chori Chori |
| 1957 | Pyaasa |
| 1957 | Naya Daur |
| 1958 | Madhumati |
| 1963 | Mere Mehboob |
| 1971 | Anand |
Johnny Walker's biggest asset -- you knew what to expect from him -- eventually became his biggest undoing in later years. You knew exactly when he would do a double take or when he would reduce his voice to a wallowing whine or simpering whimper. Moreover, his guru and friend Guru Dutt's untimely death took its toll on Johnny's joie de vivre.
Character actress Nadira once recalled, "He sobbed his heart out when Guru Dutt died. In later years, one had to just mention Guru Dutt's name and his eyes would brim with tears."
By the 1970s, Johnny Walker did largely walk-on parts. But his friends recall that he had no regrets. He strongly believed that one should not make mountains out of molehills and faced the blows of destiny with his characteristic wry smile.
To his credit, he left an indelible impression even in small roles like in Hrishikesh Mukherjee's Anand, where he played a bearded stage director who humours the dying cancer patient Anand (Rajesh Khanna) with pithy philosophies of life. The scene in which Johnny Walker turns away from the camera so that he can conceal his tears had audiences hankering for a second kerchief.
After staying away from the arclights for a decade and a half, Johnny Walker was seen once again in Chachi 420 (1997), his last important role. He played a makeup man who transforms Kamal Haasan from a robust man in his thirties to a rotund, Matunga mami in her ripe sixties.
Johnny Walker may have passed away but his scratchy voice and goofy demeanour will linger on in the minds of cinegoers.
Johnny Walker on rediff.com
But where are the comedians: Johnny Walker
Chacha 420
Related links
The Chachi 420 review
Classics revisited: Naya Daur
Johnny Walker remembers Mukri
Pay your tribute to Johnny Walker
Alvida...Johnny Saab
More tributes
Stories were written with him in mind: Johny Lever