Moon-faced and lithe, Leena Chandavarkar could convey the heart-stopping beauty and fragility of a Dresden China doll, especially in her earlier films. Leena never graduated to the 'thinking-actress' status but was conventionally pretty and positively perky in her string of early 70s hits.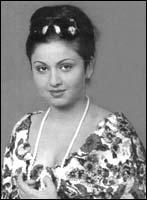 Leena broke into girlish giggles, both on and off screen, at the slightest provocation. Though she often played the spitfire, there was no subterfuge or anything deceitful about Leena. Her screen charisma could be sourced to her palpable emotional directness -- a trait that connected her instantly to the audience.
Before the vicissitudes of life (she was widowed twice) forcibly matured her, Leena projected a very real innocence, stemming from her small town upbringing and the fact that she was still in her teens when she entered the film industry.
Leena dreamt of venturing into the portals of a studio when she was barely 15. Bitten by the acting bug in her native Karwar, she secretly applied for a talent hunt in Mumbai. Her disapproving parents grudgingly gave their consent when her gritty great grandfather expressed his support.
Leena Chandavarkar's landmark films

Year

Film

Co-stars

1969

Man Ka Meet

Som Dutt, Vinod Khanna

1970

Humjoli

Jeetendra

1971

Main Sundar Hoon

Mehmood, Biswajeet

1973

Anhonee

Sanjeev Kumar

1974

Manchali

Sanjeev Kumar

1974

Bidaai

Jeetendra

1975

Qaid

Vinod Khanna
But when Leena reached Mumbai, she was told that though she was photogenic and talented, she was too young to play the heroine. Unwilling to act in sisters' roles, Leena bided her time and modeled for a few advertisements, which brought her to the notice of actor-filmmaker Sunil Dutt.
Dutt was producing a film to launch his brother Som Dutt. He offered Leena the leading lady's role in this home production, Man Ka Meet (1969). Vinod Khanna also made his debut in the film as the villain.
Sunil Dutt entrusted his actress wife Nargis with the grueling job of grooming Leena. Under Nargis' tutelage, Leena learnt to speak Hindi, western dancing and driving but did not venture anywhere close to the swimming pool. She was scared they would ask her to wear a swimming costume in the film. When she was cajoled to wear one for a photo shoot, she refused to come out of the changing room because she had not waxed her legs!
Overjoyed with the acting opportunity that Man Ka Meet offered, Leena did some daring stunts including one where she ran atop a moving train, with a 100 feet drop on one side!
Leena's performance as a spitfire who hires a village yokel to pose as her husband in Man Ka Meet did not win her critical hosannas but the masses liked her fine China looks. Ironically, the industry embraced Vinod and her in its fold, while Som, for whom brother Sunil Dutt had ostensibly produced the film, was sidelined.
Man Ka Meet
was a moderate success but Leena soon followed it up with a fun-filed romcom,
Humjoli
, costarring Jeetendra. Two frenetically-paced duets from the film,
Dhal gaya din
and
Haaye re haaye
, vastly entertained the audience, especially the former where Leena and Jeetu danced and played badminton, hitting the shuttle with the beat.
Leena quickly made it to the A-list of heroines and was offered films with the biggest names. In the Rajesh Khanna era, Shammi Kapoor made a last ditch effort to woo back his audience by romancing the much-younger Leena in Jaane Anjaane and Preetam (both in 1971). Leena was paired opposite Dharmendra in Rakhwala (1971) and opposite Rajesh Khanna in H S Rawail's expensive Muslim social, Mehboob Ki Mehndi (1971). Leena looked her prettiest in the film but, unfortunately, the film's tenure in the theatres was only about as long as the mehndi stays on one's hands.
Ironically, Leena's career got an early fillip not through a film starring these major heroes, but in a film with popular comedian Mehmood in the titular role. Main Sunder Hoon, a tragic-comic tale of an ordinary-looking actor's obsession with a sympathetic pretty woman, had Biswajeet employed for the perfunctory song 'n' dance routine while Leena and Mehmood hogged center-stage.
Leena Chandavarkar's famous songs

Song

Film

Singer

Dhal gaya din, ho gayee shyaam

Humjoli

Asha Bhosle, Mohammed Rafi

Aaj main jawan ho gayee hoon

Main Sundar Hoon

Lata Mangeshkar

Jane kyon log mohabbat kiya

Mehboob Ki Mehndi

Lata Mangeshkar

Mere dil ne jo maanga mil gaya

Rakhwala

Lata Mangeshkar

O buddhu pad gaya palle

Anhonee

Lata Mangeshkar

Gham ka fasana ban gaya sachha

Manchali

Kishore Kumar, Leena Chandavarkar

Dekho dekho ji

Bidaai

Lata Mangeshkar, Kishore Kumar

Yahan kaun hai asli

Qaid

Lata Mangeshkar

Sare shehar mein

Bairaag

Mohammed Rafi, Asha Bhosle
Leena made the most winsome pair with Sanjeev Kumar. His comic streak and her penchant for playing a shrieking damsel in distress to the hilt made the distributors of Anhonee (1973) and Manchali (1974) hugely happy. Leena could now project petulance and innocence under siege with marked ease. Nazima, a long-neglected talent, was also able to spark off some unforgettable comic moments in Leena's company in both Manchali (the sequence in which they consider and reject letters from prospective grooms) and Honeymoon.
Bidaai
(1974) proved to be Jeetendra's comeback film after a low phase and Leena too won attention for her unconventional role. Leena played Jeetendra's possessive wife who tries to snap the apron ties that tied him to his beloved mother (Durga Khote). Skeptics advised Leena against the grey-shaded role but
Bidaai
proved to be the biggest hit of her career. And her intrinsic innocence was not subsumed by the shrewishness.
Ironically, after Bidaai, Leena too bade bidaai to the film industry to marry the good looking and rich Siddharth Bandodkar. But Leena found her happiness rudely abbreviated when Siddharth died in a freak accident. A distraught Leena did not chose the option of returning to films. Later, she found her anchor by becoming the fourth wife of childhood idol Kishore Kumar.
Brief flirtations with films followed in the mid-80s. Leena appeared in a cameo in her one-time hero Jeetendra's home production Sarfarosh. The actress also starred opposite her Mehboob Ki Mehndi hero Rajesh Khanna in her husband's production Mamata Ki Chhaon Mein. But a rotund and happily married Leena was just a shadow of the Leena in her heyday. Tragically, Kishore passed away in 1987.
Burying herself in domesticity and in the rearing of her son Sumeet, Leena today takes delight from the fact that her son has chosen to walk in his famous father's footstep and yodel into the mike.
Fate might have not dealt her a terrific deal, but Leena prefers to look at the bright side. Her philosophy of life is simple: 'If somebody gives you a free ticket for a tour, you cannot fight with the person because of the troubles you meet while on the journey.'