On September 29, Karisma Kapoor will marry her childhood friend, Sunjay Kapur, and put her career on the back burner.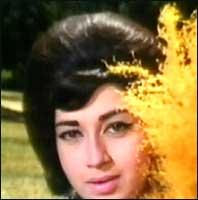 To celebrate the actress' coming nuptials, rediff.com flashbacks three decades ago to the time when Karisma's mother, Babita, too gave up a flourishing career to marry her boyfriend-from-her-school-days, Randhir Kapoor.
Babita: Her daughters' mother
"I was a flower pot who was paid in lakhs," Babita had once admitted with typical Aries candour.
Today, Babita is recognised as a woman with a sharp business acumen, who, with steely force, propelled her star-daughters, Karisma and Kareena, to lofty heights. But in her brief acting career, which spanned eight years (1966-1974) and 19 films, Babita conducted her own life with the same brisk, no-nonsense professionalism.
Babita's screen image, however, was totally antithetical. She was the modern miss-in-distress who was alternately wooed and rescued by a leading male star. With seeming ease, she managed to star in a string of hits and make a bundle before a whirlwind marriage to Randhir Kapoor abbreviated her career.
Babita's landmark films

Year

Film

Co-stars

1967

Dus Lakh

Sanjay Khan

1967

Farz

Jeetendra

1968

Aulad

Jeetendra

1969

Haseena Maan Jaayegi

Shashi Kapoor

1969

Tumse Achcha Kaun Hai

Shammi Kapoor

1969

Kismet

Biswajeet

1969
Anjaana
Rajendra Kumar
1970
Pehchaan
Manoj Kumar
1970
Kab Kyon Aur Kahan
Dharmendra

1971

Kal Aaj Aur Kal

Randhir Kapoor
First break
Daughter of character actor Hari Shivdasani and niece of one of the most sought-after heroines of the 1960s, Sadhana, Babita was keen to enter the portals of a studio rather than a college after she finished school. Shivdasani organised a screen test for her with veteran producer, G P Sippy. After just one shot, Mr Sippy announced pack up.

A dejected Babita went home only to receive a call from Sippy. He asked. 'Are you ready to start shooting in 15 days for my next film, Raaz?' With characteristic panache, Sippy declared, 'I recognise a star when I see one!'
The film that made her

Farz. Babita's piano-key-white teeth, pale pink lipstick and sprinkled-with-stardust belly button made her the favourite of the front benchers.
Fashion inspiration

Babita was the fashion inspiration for hordes of college girls. Her tight churidar kurtas, hoop earrings and go-go glasses were much imitated. Her histrionic talents, if any, stayed masked behind the pink patina.

Lesser known fact

Babita was offered the author-backed role of a widow (eventually played by Hema Malini) in Ramesh Sippy's Andaaz, but her father thought it was contrary to her glamour girl image and prevailed upon Babita to turn it down.

Babita's heroes
* Babita and Rajesh Khanna were launched in Raaz (1967). She went on to become a star and he, a superstar. But the intense-and-introverted Khanna failed to make a winning team with the polite-but-reserved Babita.
*
Babita preferred to pin her lucky star on the lapels of Jeetendra, the leading man of her biggest blockbuster
Farz
(1967).
*
Fortunately for Babita, the successful
Dus Lakh
(1967) was released before
Raaz
. Her
Dus Lakh
co-star, Sanjay Khan, was touted to be the next superstar but her only other Sanjay co-starrer was
Sone Ke Haath
(1974). This, ironically, was her last film.
*
She worked in at least one film with all the top stars of the day, including Rajendra Kumar in
Anjaana
, Manoj Kumar in
Pehchaan
and Dharmendra in
Kab, Kyon Aur Kahan
.
The

Farz Fever


Babita's famous songs

Song

Film

Singers

Tumse o haseena kabhie mohabbat

Farz

Suman Kalyanpur, Mukesh

Bekhudi mein sanam

Haseena Maan Jaayegi

Lata Mangeshkar, Mohammed Rafi

Aao huzoor tumko sitaron mein

Kismet

Asha Bhosle

Rangat teri surat si

Tumse Achcha Kaun Hai

Lata Mangeshkar, Mohammed Rafi

Rimjhim ke geet saawan gaaye

Anjaana

Lata Mangeshkar, Mohammed Rafi

Woh pari kahan se laaon

Pehchaan

Mukesh, Sharda, Suman Kalyanpur

Aap yahan aaye kis liye
Kal Aaj Aur Kal
Asha Bhosle, Kishore Kumar
Aahein na bhar thandi thandi
Banphool
Lata Mangeshkar

Sheeshi bhari gulab ki patthar pe

Jeet

Lata Mangeshkar
*
Initially, Babita had been utterly dismayed by this spy thriller, a nickel imitation of James
Goldfinger
Bond. When released,
Farz
proved to be a slow starter but raced to the jubilee post  thereafter.
*
With
Farz
, Jeetendra and Babita heralded a style of dancing that was a forerunner to the modern-day aerobics.
*
Around the jubilee week, the censors scissored off a portion of the song,
Hum to tere ashiq hain
. After a lot of public hue and cry, the song was reinstated and gave the film a lease of an additional 25 weeks!
Her Achilles heel

*
During the shooting of
Tumse Achcha Kaun Hai
, a disbelieving Shammi Kapoor was appalled that an assistant dance director had to give Babita cues about the song's beat before she could move her dainty feet. Shammi accepted the onus of teaching Babita to count the beats in her head. But Babita was too caught up in holding her head straight under the weight of her huge bouffant to follow his instructions for long.
*
Babita could not swim either. S D Narang's
Anmol Moti
was a film publicised as India's first underwater film. Since Babita could not swim, she would stand on a chair, draped in a fisherwoman's
sari
et al and allow her swimming instructress to push her into a water-filled tank that lay submerged in a swimming pool. A desperate Babita would flap her hands like an octopus and zoom to the surface when she got breathless.
Her

Kal Aaj Aur Kal with Randhir Kapoor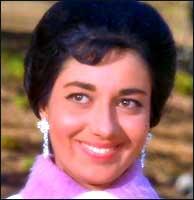 *
A diligent and dedicated actress, Babita was an equally devoted girlfriend. An enamoured Dabboo (Randhir Kapoor), who had a school boy crush on her, would invariably wait for her to return from the studios. While he lolled in his favourite armchair, she would sneak into her bathroom and peel off her makeup because Dabboo disapproved of it. By a quirk of fate, Randhir went on to sign Babita for his home production and directorial debut,
Kal Aaj Aur Kal
.
*
Randhir and Babita vowed to be together vide 
Jab tum hoge saat saal ke aur main hoongi pachpan ki
. But after a few years of domestic bliss and two daughters, Karisma and Kareena, the couple separated. On hindsight, one is not surprised that the initiative to separate was taken by Babita.
*
Today, Babita lives with her two daughters. She has achieved for her daughters what she could not realise for herself. While she was a star, nothing more, nothing less, her daughters have earned the appellation of star-actresses.