Aamir's resolution
Lata Khubchandani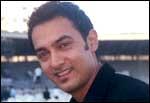 Aamir Khan's here to stay in the hall of fame. Both his recent films -- Lagaan and Dil Chahta Hai have fetched him a lot of well-deserved credit.

So the Moranis asked him and his Lagaan team to be part of their shows in the US.

But they had hardly started performing when the tragic events of September 11 occurred.

Fortunately, Aamir was in Toronto at the time, showcasing Lagaan to much adulation.

Now in Vancouver, the actor is busy shooting for a Coke commercial. "Last weekend, we had to cancel our shows due to the terrorist attack in New York. But we'll resume the shows this Friday. I'll be in the US for another week to make up for the cancelled shows," the actor confirms.

He adds that the shows have gone very well till now. Not bad, considering he was breathlessly busy just before he embarked on the trip, what with the Lagaan-Britannia tie up, interviews and the fact that he kept getting interrupted during rehearsals.

The meticulous star has refrained from signing any new films, as he is extremely busy with the post-release work of his first home production, Lagaan.

But he is slated to work in the forthcoming ABCL film, to be directed by cousin, Mansoor Khan. And the fact that Bachchan's company will start shooting for the concerned film before the star signs on the dotted line, shows the kind of faith they have in the Khan's professional ethics.