It's witching hour for Shabana
Subhash K Jha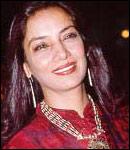 Shabana Azmi, one of India's best actresses, will play a witch in a children's film.

"That's right," laughs music composer Vishal Bharadwaj (of Maachis fame), who will debut as a director with this film.

When he approached her for the role, he says, "Shabanaji agreed, much to my surprise. She said it's her way of reaching out to the younger viewers."

"Can you imagine her as a witch? And she's doing it absolutely free of cost. She says she owes it to the children of this country," adds Vishal. The get-up for the witch's part hasn't been decided yet. "Shabana wants to work out a look that's acceptable to our culture," reveals Vishal.

The plot revolves around twin sisters -- one na´ve, the other mischievous. The mischievous twin sends her sibling to a witch, who turns her into a hen. The witch then demands 100 hens in exchange for the girl.

To get her sister back, the mischievous twin pretends to be both sisters until she sorts out the mess. Shweta (whom Vishal describes as a "born actress") will play the double role.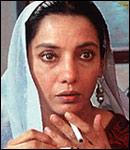 Says Vishal, "I always wanted to make a film for children. I wrote this story while waiting for my other feature film, Barf, to go on the floors."
"I saw Santosh Sivan's Halo and Malli. I thought, if Santosh could make such sincere films, I could, too. There's no greater satisfaction than working for children."
If all goes well, Naseeruddin Shah will play a cameo role of a butcher. Vishal will compose the music and Gulzar will pen the lyrics.
The four-time National Award-winning Shabana hasn't been seen on screen since her performance in Godmother two years ago.
"Nothing could be more exciting for me than to direct an actress of Shabana Azmi's calibre. I don't think any music director in India can hope for a better directorial debut," says Vishal.
The film will go on the floors in December.
Indo-Asian News Service