Miramax buys rights to Asif Kapadia's The Warrior
Arthur J Pais in Toronto

Miramax Films has seized North and South American rights to The Warrior, Asif Kapadia's first feature film.
Miramax, a major art film distributor in America, whose hits include The English Patient, and Shakespeare In Love has plans to release Kapadia's film by the end of the year. The acquisition was revealed during the international film festival in Toronto.
An arm of Walt Disney, Miramax has successfully distributed films with desi themes such as the Om Puri starrers, My Son The Fanatic and East Is East across North America. While Fanatic made about $200,000; East Is East grossed over $4 million.
The Warrior, starring mostly newcomers, is set in feudal India, and offers the story of a lone warrior who renounces his profession as an enforcer to a local lord following a mystical experience.
"I'll never lift a sword again," declares the warrior.
But the lord does not want him go.
The warrior flees his desert home with his son in tow. The lord's reaction? "No one leaves my service. No one. Bring me his head."
Kapadia says his film, which was shot extensively in Rajasthan, is part adventure, and part contemplative tale.It is also a fable for our times, he adds.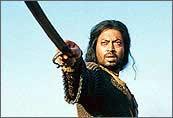 Twenty-plus Kapadia is also the maker of the short film, Sheep Thief, which was widely acclaimed three years ago. A story of a thief turned into a saint, Kapadia made the film as a graduation exercise at the Royal College of Art. It won him the jury prize at Cannes and the Grand Prix at the European Short Film Festival in Brest.
Kapadia, who has directed many commercials, and has worked for Carlton Television and the BBC as a producer and director on many dramas and documentaries, reportedly made The Warrior for about $3 million.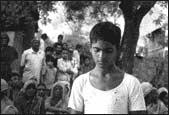 The film, which has been shown at the Edinburgh and Venice film festivals, has received mixed reviews. Variety, the trade publication noted the film is too leisurely and could draw a limited audience of desis.
But Miramax has high hopes for the film that has already been sold in France, Germany and Spain -- and expects it too have a crossover appeal.
"We are thrilled to have discovered such a great talent like Asif Kapadia," Maeva Gaineau of Miramax was quoted as saying in the trade publication, Variety.