Jeremy Irons, Penelope Cruz to relive Bhopal Gas tragedy?
Som Chivukula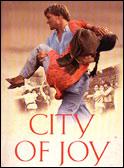 More than a decade ago, noted French author Dominique Lapierre wrote City of Joy to bring to light the plight of slums in Calcutta.
City of Joy, which sold nearly eight million copies, was made into a feature starring Patrick Swayze in 1992. Though it was critically acclaimed, residents of Calcutta criticized the film for exaggerating the situation.
Now, another Lapierre book about India will make it to the big screen. Oliver Stone, the director of such films as Heaven And Earth and Platoon, is in talks with Lapierre to film It was five past midnight in Bhopal.
The book recounts the 1984 tragedy in Bhopal that claimed the lives of over 4,000 people when a chemical tank at the Union Carbide pesticide factory leaked poisonous gas. More than 20,000 people have perished due to the poison, making it the world's worst industrial disaster.
Lapierre, who is in India promoting the book, released Wednesday, told reporters: "Jeremy Irons and Penelope Cruz have expressed interest to act in the movie."
Irons, who is known for his dynamic roles in Damage and Reversal Of Fortune for which he won a Best Actor Oscar in 1990, is one of Hollywood's most versatile actors.

Cruz, who is making headlines worldwide for her romance with Tom Cruise, is one of the brightest young actresses in Tinsel Town.
This will be Lapierre's third book about India that will be made into a film. Mother Teresa: In the Name of God's Poor was made for television in 1997.
The book on the Bhopal tragedy, co-authored by Lapierre's nephew Javier Moro, will hit U S stores later this year.