When Padmini Kolhapure launched her film company, she was expected to start making Hindi films immediately.

Instead, she made Marathi films and television serials. Paanch is her first Hindi film, directed by teleserial maker and writer.

This is Anurag's first venture as film director. Like the earlier films that he penned, (Satya and Kaun), Paanch is also a thriller. It is a story about what five youngsters do to achieve their dreams and desires.

The film stars Padmini's youngest sister Tejaswini Kolhapure, Kay Kay Menon, Aditya Srivastav, Pankaj Saraswat, Vijay Maurya and Joy Fernandes.

Sanjay Dutt has been roped in for a guest appearance.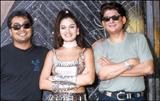 At the moment, we are in Mehboob Studios. It's a house we're in.
Tejaswini, dressed in a salwar kameez, is chatting with her jija (brother-in-law) Tutu Sharma.
Everyone seems relaxed. The scene to be shot is fairly easy. And the last one of the schedule. After this, the unit moves for an outdoor shoot.
When asked about the film, producer Tutu Sharma says, "Paanch is a thriller. And it has turned out extremely well. Anurag is a wonderful person, director and writer."
Tutu has already produced films like Rajkumar and Gharwali Baharwali, and even the small budget Rockford.
So what inspired him to make Paanch?

He reveals, "I always believed in making good films. And if those films did not turn out to big hits, it's just bad luck. But we will not stop trying. See, if people keep making the same films over and over again, how will cinema change? I am trying at my level.
"Introducing Tejaswini has been a pleasure. She is very hard-working and talented. We all saw her work in the television serial Mujhe Chand Chahiye. I hope Paanch gives her the much deserved break."
Tejaswini is tense. She is supposed to yell and her voice has to be heard over the music blaring out of the sound system.
Pankaj teases her by not listening to her. Finally, the two go in for a take.
The first take tires Tejaswini. She is thirsty.
The sound recordist makes a few changes -- he is not happy with the mike placement.

The actress asks Anurag if she can change her position. He agrees, readily. They go in for a take. Anurag is impressed. The shot is canned.
As soon as the camera switches off, Anurag hugs her.
Tejaswini talks about her role in a low voice. She is saving her energy for the next shot. "Paanch has been a great experience. I have a fantastic role in the film. Besides, to have five guys in the film, but no one opposite me is even more fun.
"My character wants to get rich. The film is about the price she pays.
"I am grateful to my jija for encouraging me and noticing my talent. This is the right launch for me. This role is really inspiring and just right for me.
"Working with Anurag and the others has been fun. My sister, Padmini, liked the rushes a lot. I hope I don't let people down."
Anurag is ready with his next shot. Tejaswini excuses herself.
It's time to leave...
India News Feature Service
Also Read:
Living on the edge
Tejaswini rocks!