Soul-stirring
Tanmaya Kumar Nanda in New York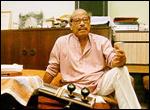 Age hasn't withered that golden voice. At 81, Manna Dey is as captivating as he was decades ago.
On September 2, as the audience clapped and hooted, the veteran singer brought back to life some of his most soulful tunes at a live performance at the Sheraton LaGuardia Hotel in Flushing, New York.
"At heart, I am still a little over 40," Dey laughs, before taking the audience down musical memory lane.
"I've worked with many music directors in the Hindi film industry," remarks Dey. "And today, the songs I sing will showcase the typicality of each of the greats."
From Roshan, S D Burman, R D Burman, Salil Choudhury, Shankar-Jaikishen, Naushad and Ravi, Dey's repertoire has been as exciting as it has been memorable.
"One of the greatest music directors I ever worked with, was R D Burman," admits Dey. "His compositions were so scintillating. Even a song like Aao twist karein was loved."
In memory of Panchamda (R D Burman), Dey sang the semi-classical Aayo kahan se Ghanshyam.
Occasionally, Dey rendered purely Hindustani classical music, singing a non-film thumri -- Nathni se gira moti re.
Before he launched into the classic Phul gendwa na maaro, written by Sahir Ludhianvi and scored by Roshan, he took a bite-sized crack at the current state of Hindi film music: "Aise gaane aajkal bante nahin, bane bhi to daalein kahan?" (They don't write music like this anymore, and even if they did, where would they put it in the film?)

In a throwback to his own early beginnings, Dey also sang the song that established him as a singer -- Upar gagan vishal, neeche hai paatal.
Another classic from Burman was Poocho na kaise maine rain bitayi, which Dey described as "one of the most brilliant compositions of the film industry."
Having lent his voice to most of the great actors in the industry, Dey revived many a yesteryear hit -- Kaun aaya mere man ke dwaare, Laaga chunri mein daag, Ai bhai, zara dekhke chalo, Jhanak-jhanak tori baaje payaliya, Kisne chilman se maara nazara mujhe, Hansne ki chaah ne kitna mujhe rulaya hai and Tujhe sooraj kahoon ya chanda.
Dey also underlined his fluency with languages, singing in Bengali and Gujarati.
The event was organised by World Travel, with none of the glitzy accompaniments that seem to have become de rigueur for any musical event.
It was just Manna Dey and his harmonium, accompanied by the tabla and keyboards. The three-hour-long evening was over before you could say "Wow!"'
Also Read:
'My songs were composed with me in mind"