Subhash K Jha

Raveena Tandon is back in Bombay after a two-month concert tour for Sunil Shetty's Popcorn Entertainment that took her to the US, Canada and the UK.

"It's great to be back home!" sighs Raveena, on the sets of director Manoj Aggarwal's new film. She worked earlier with Aggarwal in Pardesi Babu.

"Don't ask me why the same producers cast me in their films. Maybe someone up there likes me as much as people down here," says Raveena.

The audience response at the concert, which also featured Urmila Matondkar, Mahima Chaudhry and Akshay Kumar, was lukewarm -- but for Raveena's presence.

Her numbers, especially Yeh Raat (Aks ), was a riot at all the three shows. The minute she took off her jacket, the crowds went berserk.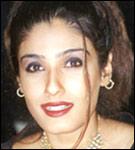 When asked about it, the actress laughs: "Where did you hear this? But yes, my dances, especially from Aks, had both the foreign and Indian members of the audience clamouring for more."
Raveena's performance in Aks didn't really win her the appreciation it deserved, thanks to the lukewarm response to the film. But now, she's getting unexpected praise for her brief, but well-etched role of a club dancer.
"The response to my role in Aks has been more than I expected. I got a chance to perform alongside actors like Amitabh Bachchan and Manoj Bajpai. In my next release, Suresh Krssna's Abhay, I play a television newsreader and share my scenes with Kamal Haasan, one of India's finest actors," explains Raveena.
"Working with such actors is an experience I can't describe. I couldn't have asked for anything more in life. Except, perhaps, a man to share my life with. But I guess that, too, will happen when it has to happen," she adds.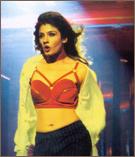 The sets buzzed with activity and Raveena looked ready to kill.
"The concerts abroad have given me a new high. I feel confident. My batteries are recharged and I'm now ready to go beyond my National Award for Daman," states Raveena.
She elaborates on her flamboyant look for Manoj Aggarwal's film, "I play a loud, brassy, paan (beetle nut) chewing Hyderabadi woman in this film. I've never done this before. Shooting with, Govinda, one of my favourite costars, is an added incentive. I have two films on the floors with him."
The other is Harmesh Malhotra's Ankhiyon Se Goli Mare. "Both are out-and-out fun films. And you know what? I'm having the time of my life," Raveena asserts, as she heads for the first shot of the evening.
Indo-Asian News Service
Also Read:
Ravishing Raveena's back!