Funnily enough...
Jeet Thayil

Acclaimed filmmaker Mira Nair is of the opinion that Indians are more humorous than Americans.
"Americans are too busy to let themselves go. They don't laugh as much as people do in India," says Nair, who hopes to change that with her television premiere of her latest documentary, The Laughing Club of India.
The film explores the new phenomenon of laughter clubs, as seen in cities from Europe to Southeast Asia and the United States. There are around 450 clubs in India, where it all started.
Nair, the director of critically acclaimed films like Salaam Bombay and Mississippi Masala, has participated in the laughter clubs herself.
"I was affected by the absurdity of it all and I started laughing," she says. "I laugh a lot anyway, so it wasn't all that unusual."
She said laughter in a group situation has a way of spreading uncontrollably. "It's the principle of contagion. You involuntarily have to laugh." Even Nair's cameraman found himself laughing uproariously.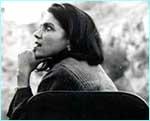 Not everybody finds the laughter clubs so funny, though. In Bombay, where the movement began, groups would meet at dawn in the city's parks to laugh together. However residents who reside nearby objected to the high decibel levels.
In Bandra, northwest Bombay, a Parsi family took the laughter club to court, saying they were woken up every morning by loud laughter. "I tried my best to interview the woman who sued the laughter club, but she wasn't willing to talk," says Nair. "It was hilarious."
The late Indian thinker Osho Rajneesh, whose followers regularly take part in what he called the Laughing Meditation, originally introduced the idea of therapeutic laughter. It lasted for 20 minutes and involved different kinds of laughter -- from belly to silent laughter.
Says Nair, "Laughter has no fee, no fuss, no form. Whoever brought it to us should be thanked."
In the documentary, the credit mostly goes to Bombay physician Madan Kataria, who says he had a "flash of inspiration" when he watched his patients' immune systems improving following bouts of laughter.
Kataria says he developed "thought-free group laughter based on yoga, and enlisted friends to set up the first laughter club."
"Anyone can participate in group laughter everyday for 15 or 20 minutes without resorting to jokes."
"Each laughter session starts with deep breathing and the ho-ho-ha-ha exercise followed by a variety of stimulated laughter like lion laughter, one-meter laughter, cocktail laughter."
Kataria says he wants to include a laughing contest at the Olympics where, at the opening session, all the people of the world will laugh out loud for 10 minutes.

Nair's documentary includes testimonials from members of the laughter clubs who describe how the practice has changed their lives. Its featured segments include a group of workers in an electrical products factory in Bombay who take time off to laugh during their coffee break.
Nair's Monsoon Wedding released by USA films, with Naseeruddin Shah is scheduled to participate in the Toronto and Venice film festivals.
She is also shooting the HBO film, Hysterical Blindness, where Uma Thurman and Gena Rowlands play mother and daughter.