Rekha: Mother 2001
Subhash K Jha

It's official.
After toying with names like Shabana Azmi and Dimple Kapadia, producer-director Rakesh Roshan has zeroed in on the enigmatic Rekha to play Hrithik's mother in his new venture Koi Mil Gaya.
Rekha had said earlier that if she ever were a mother, she'd like her son to be like Hrithik. And good friend and one-time co-star Rakesh Roshan, Hrithik's father, has made her dream come true, onscreen.
Rakesh Roshan and Rekha starred together in several films in the Seventies, including the evergreen comedy Khubsoorat.
In the Eighties, when Rakesh Roshan made his first and only female-oriented film Khoon Bhari Maang, he cast Rekha in the role of a woman who takes revenge on her murderous husband.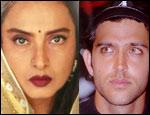 Rekha won the Filmfare Award for best actress for her performance.
Koi Mil Gaya has attracted a lot of media attention. But the producer-director is reluctant to divulge details of the plot. His only promise -- Koi Mil Gaya, with its outstanding special effects will be unlike anything seen in Hindi cinema.
"It took me a very long time to finalise my new script," says Rakesh Roshan. "I've always made sure that my films don't resemble each other. I can see a long and hard struggle ahead. Koi Mil Gaya is a very difficult subject to make."
Rekha's role in Koi Mil Gaya is no run-of-the-mill mother's part. Hrithik's relationship with his mother forms an integral part of the film's unusual plot.
"I play a very unusual hero," adds Hrithik, who became a superstar with his debut film Kaho Naa...Pyaar Hai early last year.

Quashing rumors that he considered Aishwarya Rai to co-star with Hrithik, Rakesh Roshan says, "People jumped to that conclusion after they saw how well matched Hrithik and Aishwarya were in the Coca-Cola ad. I did think of a newcomer for the female lead. But I never considered Aishwarya or any other established actress, except Preity Zinta, who's now doing the film."
Koi Mil Gaya goes on the floors this September.
Indo-Asian News Service