Kargil revisited
M D Riti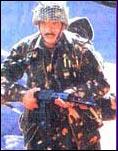 The sentry at the checkpoint of the transit camp in Neemu saluted smartly as the jeep with an officer drove past.

And actor Ashish Vidyarthi returned his salute, smiling slyly at producer C P Yogeswar.

For three days, the Indian soldiers couldn't tell that these men were impostors.

Or so Sainika's Yogeshwar would have us believe.

After braving the Kargil temperatures for a month the cast and crew of the Kannada film Sainika are still reeling from their experiences.

"I have lost all my strength, I'm fatigued. Enduring the rigours for a month was a real task," says MLA turned actor C P Yogeswar.

He was among the lucky ones.

A few unit hands fell so ill that they had to be flown back to Bangalore. "We came back full in total admiration of the Indian soldiers, who live in such trying conditions," says Yogeshwar.

"We tried to cook," says Yogeshwar, "but it was so cold that rice would not boil and food froze over before it got done."

"We were right on the edge of the Siachen glacier," continues Yogeshwar. "The unit had to keep working in those extreme weather conditions, and everyone kept falling sick."

The soldiers in base camps also helped train the actors on the use of dummy bombs. Says Yogeshwar. "Who knew dummy bombs could actually blow real rocks to bits? It's so different from what's seen in films."

It took this second time filmmamker 365 days to obtain permission to shoot at the border.

"After the script was cleared the Intelligence Department of the Central Government, but sections of the defence ministry -- the infantry and the airforce wanted to look through it too. They all wanted to make sure the script promoted national integration," Yogeswar explains.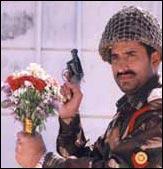 And as Yogeshwar wanted to use the Bofors gun, real missiles and artillery, he even had to take permission from the Government of Pakistan.
"Thankfully, we never saw any actual skirmishes, although officers talked about sporadic breakouts all around us every day," he says.
Ram Shetty, a cousin of the old Fighter Shetty, directs all the action in the film. "All the terrorists in the film were played by Hindi film stuntmen," explains Yogeshwar. "The Kannadigas simply do not have that kind of physique!"
Interestingly, the crew found that only the foreign tourists went to Leh, no Indians. Also the place was so expensive that food and diesel had to be brought up from Kulu-Manali.
Yogeshwar, cannot forget the 2000 young Ladakhi boys he saw being trained to become scouts. "The boys know nothing of the world outside that very unreal pocket they live in," he says. "But they already know how the world looks when viewed through the telescopic sight of a rifle."
"There is something about a soldier's uniform that completely transforms you," says Yogeshwar. "It fills you with so much patriotism and also a sense of sorrow at the loss a war causes."
He admits that he came up with the idea for this film after the Kargil conflict.
"Soldiers are never the sons of politicians, industrialists or even bureaucrats. They are uprooted from their families and homes. Aside from their problems at battle, they have to deal with personal issues too. Nobody wants to give them their daughters as brides! Their families live in constant fear.
Sainika attempts to deal with these issues."
The film is to be released in three months.

Sainika hit the headlines some months ago when heroine Saakshi Shivanand claimed that her twin sister exchanged places with her when they shot for the film.
Yogeshwar has already begun working on his next film for cop-turned-filmmaker B C Patil -- Shivappa Nayaka.
He has also started putting together his own project, directed by Shivarudrayya, that is based loosely on the short stories written by famous Kannada litterateur Devanooru Mahadeva.
How does this politician manage to find time for films as well as for his constituency?
"I am basically a village boy," he says easily. "I am used to working hard. Besides, I am not a very important politician at the moment, so I am not very busy. I do spend a lot of time in my constituency, but cinema will always be my passion."