Vivek Fernandes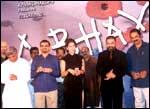 Its soundtrack has already broken records in Madras -- with over 2,00,000 copies being sold in less than eight hours of its release.
The music of Padma Shri Kamal Haasan's Abhay (Aalavandhan, in Tamil), was released under the "Universal" label at Bombay's Hotel Regent, on Friday, August 24.
Apart from the stars of the film, Kamal Haasan and Manisha Koirala, a host of celebrities were spotted at the gathering: actress Kitu Gidwani, lyricist Javed Akhtar, music directors Loy and Ehsaan (Shankar had the flu), director Suresh Krssna, producer Kalaippuli S Thanu, art director Samir Chanda, actors Om Puri, Atul Kulkarni, Tushar Gandhi, director Govind Nihalani, singer Nandhini, and character actors Saurabh Shukla and Navin Nischol.
Abhay is based on Kamal Haasan's novel, Dayam, which he wrote 17 years ago. Kamal essays the double roles of Major Vijay Kumar (a military black cat) and his mentally deranged brother Abhay.
Raveena plays Major Kumar's love interest and a news anchor. Manisha plays Sharmilee, an eccentric Hindi cinema artiste.
Director Suresh's association with actor Kamal Haasan began, he said, with him as assistant director for Kamal Haasan's 101st film. Abhay is Haasan's 201st film.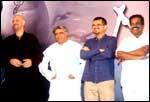 The music directors are elated with Abhay's success too. Riding high on the success of Dil Chahta Hai, the Javed Akhtar-Shankar-Ehsaan-Loy team has proved its mettle yet again.
"Working with Javedsaab was like working with a genius. He understands metering, rhythm and music so well. We had to compose the music keeping the theme of the film in mind," says Loy.
"This film required a different treatment. We had to compose for two Kamals. The titletrack, Kal tak mujhko gaurav tha, sung by Kamal reflects Abhay's dark persona. Whereas the romantic song, Sun lo and Hasde hasde, suits Major Kumar's character."
"The music does have a Broadway-like feel to it," adds Ehsaan.
"Having Shankar, who is a Tamilian working with us, was an added advantage. He understood the words for the Tamil songs. We still don't know what they really mean," the duo acknowledges.
Replying to whether things had changed for them after DCH, Ehsaan says, "The coffee still smells the same every morning. So we are still the same. But people now recognise us."
The film also boasts of spectacular special effects. Madhu, the special effects producer, says, "Abhay is a path-breaker for the industry in terms of the special effects used. For the first time, effects have been used with a moving picture, breaking away from the practice of using a still camera.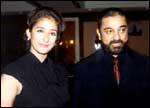 "Over 200 special effects shots have been included in the film, totalling about 25 minutes. The climax is brilliant, too. Actually, Kamal pulled off a lot of the stunts himself so our work was easy."
Raveena Tandon, who was away shooting in Hyderabad, was not present. And Manisha Koirala didn't stay too long. But in her black ensemble and stiletto boots, she did make a pretty picture.
The man of the moment was Kamal Haasan, dapper in his black suit and maroon-striped tie: "It's been a long jounery. But here, we overcame the hurdles. It wouldn't be possible without my entire team," he says, on the podium before he presented the first copy of the soundtrack to one of his favourite directors, Shyam Benegal.
ALSO READ:
Abhay music in Tamil flying off the shelves
All you wanted to know about Abhay -- An exclusive