Just one film and a deluge of offers.

For a man like Mahesh Manjrekar, who nurtured an obsession to become a filmmaker long before he actually made his first film, Vaastav, this must have been like manna from heaven.

But heaven's blessings have to be handled with care -- his next three films, Kurushetra, Astitva and Jis Desh Mein Ganga Rehta Hai didn't fare well at the box office.

Now he has six films on the floor and prove his mettle.

Ehsaas stars Sunil Shetty and Neha. A ten-year-old child plays their son. Like other Manjrekar films, this film, too, has a strong undercurrent of interpersonal emotions.

We are at the Andheri Sports Club, Bombay. The scene being shot today is a sports' day in school.

Sunil and Neha are cheering from the stands for their son. A fairly simple scene that does not require any great display of histrionics.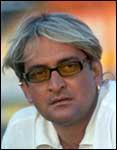 A large chunk of the scene has already been shot in Pune. Only patchwork scenes are left.
Organising a shoot in a stadium is not easy, but there is no sign of stress on Mahesh's face. He's a happy-go-lucky man, Mahesh Manjrekar. He has no hang-ups and can talk about his failures and successes in the same breath.
How does he manage to handle so many films at the same time? "I know my job and I know what I want," he retorts. "It makes life easier for everyone to know what they will be doing that day. So I plan during my breaks."
Breaks?
"Hey, I do take breaks between my shooting schedules! But then, my schedules are like a month long. I wrap up scenes quickly. I never come on the sets unprepared. I don't come here and then decide what I have to shoot. I prepare myself well in advance. Preparation is the key word. And my team is always sync with me."
As he talks, you stare at the dramatic picture that he makes with his half-dyed blond hair. He does look a bit funny. Comment about it and he laughs.
He calls a spot boy over and orders tea and snacks for us. "I am famished. And I can't possibly eat alone."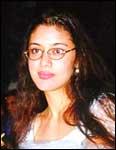 The chai and nashta arrives, followed closely by Neha.
Sipping her tea, she talks about her role in the film. "Ehsaas has been quite a lovely ehsaas (feeling). I play Sunil's wife and the mother of a son. This is the second time I'm playing mommy after Rahul.
"I like this role. It gives me scope to perform and bring out my talent. The film is about a close-knit family -- father, mother and son.
"Mahesh's unit is also very close-knit. I never felt out of place. We've shared a good rapport from the first day itself. I am confident we will work together again. Sunil, too, has been a cool costar."
The shot is ready.
"Lights, camera, action," yells the director. The camera rolls.
Sunil and Neha stand in the crowd and root for their son. He runs across the tracks and passes them. The scene is canned.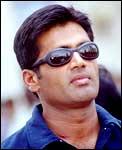 Sunil has quite a few films coming up this year, including this one. "I'm really looking forward to Ehsaas. I play a very sensitive character in Ehsaas. It is about the relationship between a father and son. It's very touching and I am sure everyone will like it."
A break is called during which the unit prepares for the next shot.
Sunil continues, "My career is shaping very well. Last year, most of my films did well at the BO. And my performances were noticed. This year, I hope to better my record. I want to be known as a good actor. Mahesh has a different and very organised way of working. I like it a lot."
Almost in tandem, Mahesh says it's wonderful to work with Sunil. And Neha pitches in with how wonderful it is to work with them both.
Sounds like quite the dream team, eh.
India News Feature Service