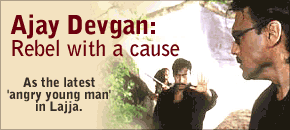 Bharati Dubey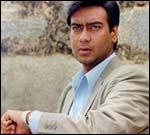 He might not have earned the sobriquet of a ladies' man. But Ajay Devgan essays his role of cinema's latest 'angry young man' with great elan.
And in Lajja, he addresses the hard-hitting issue of the rampant flesh trade in the country.
This Rajkumar Santoshi film has been inspired by the real life story of a woman in a remote village near Kanpur.
Says the actor, "It was the script and the director's conviction that prompted me to sign on. The narrative is very strong; it depicts the director's anger."
"We claim to have progressed with time. But honestly, nothing has changed for women in our society. The Bombayite may not beat up his wife like the man from Bihar would -- but that's as far as we have progressed. It's only the scale of atrocities that differ from region to region."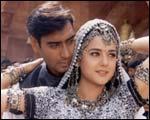 Devgan agrees that Lajja does not offer any solution. But: "The film's end is beginning of a revolution. This problem cannot be solved in a day or two. It can be resolved only when women themselves decide to fight it."
Devgan walked in to fill in Sunny Deol's shoes for Lajja. He says, "I am the rebel with a cause in the film. My character, Bulwa, is a dacoit. He is loud, bold and aggressive."
The actor is keen to show off his new lean 'n' trim image -- "I had put on weight and decided I needed to lose it. Now I feel right and intend to stay this way. I'm not on any of those weight reducing pills. I keep myself fit by exercising."
Of his faith in his director Rajkumar Santoshi, he says, "I know Santoshi is a great technician. He's made great films.
"Sometimes, films work at the box office, sometimes, they don't. I know directors who have made atrocious films which have become hits."

Yeh Raaste Hain Pyaar Ke, Ajay's last release, failed at the BO. He admits, "I knew while the film was in the making that it wouldn't work. The filmmaker's intentions did not come across through the script."
Devgan's marriage to actress Kajol has been the subject of many a rumour recently. But Ajay is quick to dismiss the gossip, "There is no problem at all. The rumours actually originated when we were on our second honeymoon."
Also read:
The Lajja music review
Mahima's on the move
Manisha has a purpose in life!