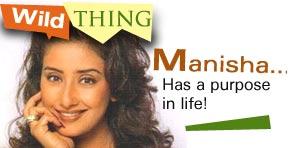 So Manisha Koirala has been keeping a low profile.

And whether or not she's been busy with her Aussie boyfriend Crispin Conroy, as an actress, it's been a long while since Manisha turned in a decent film release.

Her last film,

Grahan with Jackie Shroff, was a no-show.

But then again, for Manisha, there's always the next film to look forward to.

This time, it's Rajkumar Santoshi's

Lajja, costarring Rekha, Madhuri Dixit and Mahima Chaudhry.

A woman-centric film, everyone has great expectations from it.

Manisha, for her part, finds herself in a precarious spot -- she can't afford to go wrong with this film. And this is her point of view:
Lajja is probably the first film with four top female artistes of the country. We are also told that you have a great role in it...
Oh, you make it sound like some out-of-the-world role. But it's a nice film with a thought-provoking message.
True, it is way different from the roles I have done to date.
I play a woman who is harassed by her husband. He does not love her and does not care for her. So she decides to leave him and get on with her life.

In her journey to find herself and her worth, she meets many fascinating individuals who inspire her in out-of-the-ordinary ways.
Her conversion from a stylish, classy, chic, urban woman to a down-to-earth, unsophisticated rural person is amazing.
The film also has Mahima Chaudhry, Madhuri Dixit, Ajay Devgan, Jackie and Anil Kapoor in very fascinating roles.
I am ecstatic about doing such an author-backed role. I'm glad Rajkumar Santoshiji gave me this opportunity.
How did you take to Grahan's dismal failure?
Well, I was relieved the film at least saw the light of the day. We had worked very hard and a lot of time and effort went into the film.
It would have been terrible if the film had got stuck due to reasons that could be resolved or avoided. All I wanted was for people to see the film.
I had no expectations from the film -- good or bad. I didn't know what to expect.

It was to release with another film of mine called Yugpurush, in which I play a high-class call girl. In Grahan, I am a poor girl who becomes a whore. So the contrast would have been nice.
But no problem. I believe everything happens for the best. I did some good work, and am satisfied with what I did.
People thought I was good in the film. That made me feel good.
What about Kamal Haasan's Abhay in which you have a cameo role?
I always wanted to work with Kamalji after Hindustani.
When he came up with this role in Abhay, I just couldn't refuse.
In this industry, where people can't come up with exciting roles and storylines, Kamalji has made a film that fascinates me. He has envisaged each scene and sequence wonderfully with utmost detail.

Why would I miss such an opportunity? Although I don't have a big role in this film, it is an interesting one.
We have a hallucination scene with the psychotic Kamal in the film, which is mind-blowing.
I think Kamalji will have a bigger role for me in the future.
Which are your forthcoming films?
I have Afzal Khan's Mebbooba and Sudhir Mishra's Rakt, which has Anil Kapoor and Rani Mukherji.
There is Dil Laga Ke Dekho with Govinda, too.
I also have films with Ramgopal Varma and Anees Bazmi. So my quota for the year is full.
You lost out on Sunny Deol's Indian, what happened there?
It happened because of miscommunication.

I had just verbally agreed to working in the film. Nothing was signed.
Later, when the project was revived, they might have thought that Shilpa Shetty was a better choice.
I have no regrets. I'm sure Indian will be a fine film, especially after a superhit like Gadar - Ek Prem Katha.
How much time do you devote to projects with your new role as ambassador for the UN?
Well, I try to give as much time as I can.
I don't have to work for money now -- just for work satisfaction. I can be choosy, so I have time to spare for other things.
Last year, I had more time, though. So I worked for the UN a lot.
I always wanted to do some social work, some charity work, with the right channels. The UN is a committed organisation that works for the well-being of people on the whole.

We talk to the government, NGOs and the locals of the region we are delegated to seek solutions to their problems.
I feel my purpose has been solved.
Do rumours about your impending marriage affect your work in any way or your relationship with Crispin?
Yes, they definitely do. The filmi guys -- my producers and directors panic at the very thought. Pacifying them takes a lot of work.
I am not opposed to exclusives about me, but the press should write what is true, write correct breaking news.
Producers are apprehensive about married heroines. For an actress to make it in this industry, she has to be single.
And for the last time, I'm not married, nor am I going to in the near future. Maybe two years hence, but not right now.
Look, you know I have always been honest about my life and my relationships. Why would I hide it now?
Thank God Crispin understands these things as the hazards of my profession. He is really sweet.
India News Feature Service
Do tell us what you think of this interview