New ideas, new blood
Subhash K Jha
At 27, Farhan Akhtar has already written and directed what is being hailed as a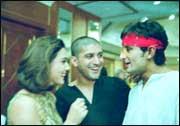 neo-classic and a flawless debut.
And the shy young director seems rather embarrassed by the attention and adulation he is getting from all over the world for Dil Chahta Hai.
Farhan says, "I don't think there's any better source of inspiration for filmmaking than everyday incidents and conversations. That's what gives any film its firsthand feel and quality."
He reveals that the protagonists played by Aamir Khan, Akshaye Khanna and Saif Ali Khan in the film on male bonding are based on people, characters and situations he has encountered.
Born to screenwriters Javed Akhtar and Honey Irani, Farhan seems to have arrived on the Hindi filmmaking scene with dreams that seem ripe for realisation. Farhan abhors the stereotypical treatment of human relationships in Hindi films.
The people who inhabit Dil Chahta Hai speak in natural tones, captured through the sync-sound technique, instead of the loud dramatic tones employed through dubbing in Hindi films.

"I firmly believe that Indian moviegoers are ready for subtleties like sync sound. There was a time when directors had to keep hammering in a point to make sure audiences understood what was being said. Now audiences refuse to be considered stupid.
"This gives a director like me an opportunity to treat cinema realistically."
The realism of Dil Chahta Hai has taken Bombay and metropolitan cities by storm. Farhan is aware though that the film may not have had the same impact in the smaller towns of India.
"We definitely knew Dil Chahta Hai won't work in every area. We knew our target audience was the big town metropolitan audience. At the same time, we hoped people everywhere would respond positively to our film's sensibilities."
Farhan thinks he has been fortunate in having a chance to do exactly what he wanted to do in Dil Chahta Hai.

"All of us stuck our necks out. I'm very encouraged by the response to the film.
I think it's time for Hindi cinema to seek out new themes and ideas. It's time to realise that the numerous spinoffs of super-successful films like Sholay and Dilwale Dulhania Le Jayenge aren't going to work."
Farhan is already working on his next script which he says is based on a national issue, and which he intends to start shooting in the middle of next year.
After Dil Chahta Hai, a sizeable section of the industry believes Farhan to be the first truly international filmmaker from Bombay whose work has the potential to compete with films made in Hollywood.
Indo-Asian News Service
ALSO READ:
Strike one: Farhan Akhtar!
My son, Farhan
Aamir Khan on Dil Chahta Hai
Preity Zinta on Dil Chahta Hai
Saif Ali Khan on Dil Chahta Hai
Akshaye Khanna on Dil Chahta Hai
Dimple: The Dil Chahta Hai surprise
Dil Chahta Hai: The story in pictures
'Dil Chahta Hai was 35% work, 65% fun!'
The music review of Dil Chahta Hai