Here come the hotsteppers!
Ranvir Nayar in Paris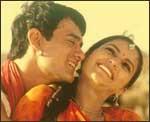 Indian flicks are in vogue, in France.
The increasing number of shops renting videos, VCDs and DVDs of the latest Hindi and Tamil films in Paris, are proof of this fact.
Compared to Britain or the US, France with a poplulation of less than 500,000 South Asians, has always been a small market for Indian films.
But with the arrival of hundreds of migrants, both legal and illegal, into France, this maket gets larger by the day.
Mukesh Kumar, a film buff, says: "Besides entertainment in a foreign country, watching Hindi films is like taking a trip to India. It keeps me in touch with my motherland." He combs Indian shops, hunting for new titles.
Abu Bakar, who migrated from southern Pakistan in 1984, opened his video shop two years ago. Today, Wembley Supervision, located near the famous Gare de l'Est (East Station), is a landmark for South Asians living in and around Paris.
Bakar says business is booming. "We sell over 1,000 VCDs of a hit film. We obtained 40 copies of Fiza one morning and by the evening, we were left with two."
Shahzad says: " Lagaan, Gadar and Jodi No 1 have been doing very well. But only a few French rent Indian films. They prefer ones with Nusrat Fateh Ali Khan's music."
Hrithik Roshan is the current favourite, followed by Shah Rukh Khan and Govinda.
Bakar says there are a lot of pirated copies in the business. Sometimes, he says pirated copies are available in Europe before the films hit Indian screens.
A little distance away from Gare de l'Est is Gare du Nord, that has a cluster of Tamil shops, run largely by migrants from Sri Lanka. It has as many as 10 video libraries, all within 500 metres of each other.
Bakar says: "Today, I sell VCDs at 50 francs and DVDs for 150 francs." Prices are even lower at Gare du Nord, where VCDs are sold for 30 francs and DVDs for 130.
Indian parallel cinema however, is conspicuous by its absence. "There simply is no demand for such films here," Bakar says.
But they dominate French film festivals -- the most famous being Festival des Trois Continents held annually at Nantes and the Panasia Festival of Deauville.
French cine-goers are keen to see films by masters like Satyajit Ray, Adoor Gopalakrishnan and Ritwik Ghatak.
Of late though festivals at Nantes and Deauville have begun taking note of Hindi commercial cinema. This year, Deauville featured a homage to actress Shabana Azmi while Nantes honoured Sharmila Tagore.
Indo-Asian News Service