A massively bedecked wedding pandal.
A huge crowded street outside is packed with cars and hoardes of gaudily dressed men and women. One presumes they are guests at the wedding.

Enter the bride. Rani Mukherji, looking resplendent in a four-piece ensemble that appears to be a cross between a ghagra choli and salwar-kameez, not to mention loads of jewellery.

A take is on.

The scene calls for confusion and anger. People are screaming at each other. A girl wags her finger menacingly at a man; he quails in fear. One pace away, two men actively begin a fight.

Pandemonium reigns.

The director looks extremely happy.

That's what Milan 'Bunty' Luthria wants anyway for his Chori Chori.

Rani Mukherji is the bride who wants out. A cajoling Satish Kaushik surges ahead to try and stop her.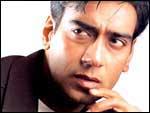 Hero Ajay Devgan at a distance seems to be enjoying the tamasha but soon decides to pitch in and barges ahead.
"Cut!" shouts the director.
This is Bunty's second film. He made his debut with Kachche Dhaage, which starred Ajay Devgan.
The duo struck a friendship then. And so when Bunty was planning the cast of Chori Chori, he roped in Ajay once again.
Kareena Kapoor was the original choice for the heroine, but she backed out at the last moment. And Rani pitched in.
A clearly irritated Rani asks, "Bunty, is this the last scene or what?"
Bunty doesn't seem too hassled by her query. And soon enough, the two are seen laughing hysterically.
There are quite a few things running in Bunty's mind. The friendship and camaraderie notwithstanding, he has to finish shooting the scene on this day itself.
Because he has to move to another set the next day. Where the workers were putting the final touches to the new sets, even as we spoke.
It is late afternoon. And there are three major scenes still pending.
Our man Bunty doesn't want to rush things. He also wants his actors to understand and cooperate fully. So he calls for a break and requests the actors to meet in his van for a quick briefing and update.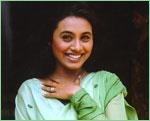 Half an hour later, they emerge.
As Rani takes her position before the camera, she looks over her shoulder and laughingly quips, "They say directors cater to actors' whims and fancies. But here, it is the other way round. Bunty has bullied us into doing overtime. We can't leave without finishing these scenes."
Obviously, she doesn't really mind the delay.
Ajay is eating out of his assistant's palm...er... plate. Lots of fruits and nimbu paani.
The health food seems to be taking a setback with the continuous stream of cigarettes Ajay's smoking.
Ajay agreed to work with Bunty in Kachche Dhaage because he had faith in his talent. And the film was a runaway hit.
"Bunty makes intelligent films. And we need directors like him in the industry. He is a friend, so I can bully him," jokes Ajay. "But when it comes to work, he has his own mind. "
What about his costars?
"Rani is cool to work with. So is Sonali Bendre who isn't shooting with us today. It has been fun making this film. All the more due to Bunty's hard work. He works so hard, that working in the film is a cakewalk for us."
Another drag from his cigarette. Ajay has said all he had to say.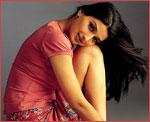 A man of few words, Ajay Devgan insists on retakes till he is satisfied.
During the shots and rehearsals, he keeps improvising on the spot, much to Rani's dismay. Despite her obvious exasperation, she soon catches up with him and they give one final shot.
Ajay seems happy with the final take. Bunty is satisfied about finishing the day's work.
Rani looks positively delirious at the thought of getting out of the heavy outfit. The moment she hears 'Cut', she runs like crazy towards her van.
Five minutes later, she returns clad in a simple T-shirt and jeans.
Tired. But happy. Now, all Rani wants to do is go home and chill.
India News Feature Service