Lagaan wins top honours at Swiss film festival
Subhash K Jha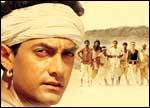 Aamir Khan's Lagaan bagged the popular 'Prix Du Public' at Switzerland's Locarno film festival on Sunday August 12, 2001.

"I'm especially proud that Lagaan has won the 'Prix Du Public' as it is popular choice award," Khan said.

"Lagaan has gone beyond the British audiences to countries where cricket isn't played," director Ashutosh Gowariker told IANS from Switzerland.

"It's overwhelming," Gowariker said. "The Germans and French don't know anything about cricket. But they're enjoying the game with the film. You can see them rooting for the villagers, as they take on the colonists at the cricket match."

The film, which was supposed to be screened only once at Locarno, was eventually shown four times due to public demand.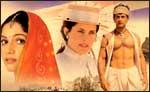 It was Sunil Doshi, a Hindi film producer, who egged the Locarno festival authorities to screen the film.
"Lagaan received a stupendous response. The festival authorities even published the rules of cricket before the film was screened to an 8,000-strong crowd on August 8," Doshi said.
"Everyone agreed it was one of the best films at the festival. All the leading Swiss dailies have called it 'a miraculous event'," said Doshi.
Which would explain why international buyers have lined up by the dozen to purchase the rights to the film. "Buyers from Switzerland, Italy, France, Netherlands, North Africa, Finland and Germany all want the film," Gowariker said. "My brief to my distributors was that not a single frame, not a single song should be cut. Either foreigners buy the film in its three-hour-42-minute length or we don't have a deal. The buyers were sceptical at first. But, now, they've agreed to leave the film intact," Gowariker said.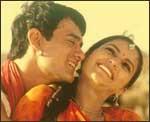 The dubbed version of Lagaan will soon be released in Italy. In France and Germany, however, the film will be released in Hindi, with French and German subtitles.
Lagaan will next feature at Toronto Film Festival, to be held in the first week of September.
Indo-Asian News Service