Celebrating India Day, Jackie ishtyle!
Tanmaya Kumar Nanda in New York
Yaadein may not have set the BO on fire as expected, but, its lead protagonist Jackie Shroff is all set for some serious leadership.

The handsome hunk of Hero who recently played father to Kareena Kapoor in Yaadein will be leading the India Day Parade in New York on August 19.
Normally, a day prior to the parade, the Mahatma Gandhi statue on West 14th street at Union Square Park is garlanded by members of the Federations of Indian Associations (FIA) and officials of the Indian Consulate in New York as a tradition of sorts.
"Unfortunately this year this ceremony is being skipped as construction work is on in the area", said Subhash Dalal, President of the FIA.rediff.com.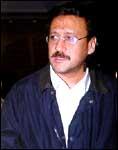 Instead, the FIA is organizing a garlanding ceremony at the Indian Consulate in New York. "We will start at 10:00 hrs, when a portrait of Gandhiji will be garlanded in the Consulate," Dalal told
Dalal also added, "Jackie Shroff has been confirmed to be the Grand Marshal for the 2001 India Day Parade, along with a host of other stars from Hindi cinema and a couple from the cricket world, reaffirming the belief that the two 'C's regularly drive the nation collectively crazy.
Last year's grand marshal, for the parade, was the beautiful Rekha, accompanied by Randhir Kapoor, Raveena Tandon and star-turned-politicians Raj Babbar and Jaya Prada.
Giving Shroff company are eminent luminaries like Pooja Bhatt, Raima Sen (daughter of actress Moon Moon Sen), music director Bappi Lahiri and singer Usha Uthup. rediff.com.

Krishnamachari Srikanth, manager of Indian junior and 'A' cricket teams and left-arm spinner Venkatpathy Raju from the cricket world complete the starry picture.
New York State Governor George Pataki and New York City Mayor Rudolph Giuliani, Speaker Peter Vallone, and other mayoral candidates are also expected to participate.