300 weeks old ... and still going strong
Shiv Kumar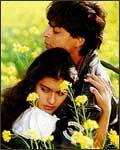 About six years ago, when his son released a breezymusical Dilwale Dulhaniya Le Jayenge, veteran filmmaker Yash Chopra knew he had a hit on his hands.
"I expected this when I first heard the music," Chopra told Star Television as he merrily signed away autographs to fans crowding to watch the movie's 300th show at Maratha Mandir theater in central Mumbai.
The film, coming after a series of box-office disasters, had helped revive the fortunes of the Chopras.
The music of the Shah Rukh Khan-Kajol starrer follows in the genre of another hit, Hum Aapke Hain Kaun, which was classified by the Indian film press as a long marriage video.
In such films boy and girl meet, fall in love after a false start and end up tying the knot after the mandatory opposition from elders in the family.
The two-hour long proceedings are interspersed with catchy songs shot at scenic locations. The grand finale is the marriage number where the clans of both sides send the couple to live happily ever after.
DDLJ was also helped by its old fashioned story line. Here the hero, Shah Rukh Khan, refuses to elope with the girl, Kajol. Instead, he opts to win over her family and marry his love.
The management of Maratha Mandir knows it is time to milk the DDLJ further. The theater has been done up and a brand new print of the movie released. In addition, every ticket holder during the 300th week celebration is being given free a double cassette packet consisting of the movie's songs and dialogues.
And the management isn't keen on discontinuing the movie. The lukkas, as Mumbai's unemployed youth are called, still flock in for the morning show for pure "time-pass". "They repeat all the dialogues and sing and dance in the aisles," says Sakharam, who works at the manager's office.
Television channels have quoted some viewers who claim to have seen the film at least 75 times.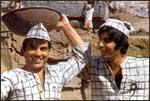 Incidentally, tickets for the movie are priced low. Moviegoers pay only Rs 9, Rs 11 or Rs 13 the Maharashtra government has given the film tax-free status. Most new films screened in renovated theaters charge more than five times as much.
DDLJ long ago broke the records of Sholay, India's best known curry western. Sholay ran for 265 weeks at Minerva Cinema after its release more than 25 years ago.
Indo-Asian News Service
ALSO READ:
DDLJ completes 250 weeks