'I've been a star for 56 years'
Indio-Asian News Service

Sitting in a sandwich joint by San Fancisco's famous Fisherman's Wharf, Hindi cinema's evergreen hero Dev Anand swings between describing a frothy teenage romance and a gruesome massacre of a fabled kingdom's royalty.

He's here scouting for locations for Love at Times Square, his next film set entirely in the U S.

The 70-something movie icon exults: "For me every new movie I make feels like the first one I am about to make. Enthusiasm and passion mean everything to me."

Dressed in a beige jersey he picked up while location hunting here, dark green trousers, green shirt and his trademark neckerchief, he walks past a few curious Indian onlookers as well as the failure of his last few movies with Úlan.

"I am a motion picture maker," he says. "Failure and success go together in this business. I have been a star for some 56 years. I have outlived most of my contemporaries. I make motion pictures because I love life."

In Love at Times Square, Anand plays a Silicon Valley billionaire father. "It is a story about a young boy and a girl who are driving from the East Coast of the U S to the West Coast, where Silicon Valley is."

"The boy falls in love with the girl, but she does not. And that is when the story begins," he says, snapping his fingers as if picking up some hidden nuances from the crisp air of San Francisco.
Anand begins shooting his Rs 120 million film sometime in September end with an all American technical crew. The film's music is scored by popular Indian pop star Lucky Ali. "We have recorded three songs already."
Last December when New York was hit by a severe snowstorm, Anand wrapped up some "exciting" footage about a new year. "I was shooting with my American crew till one in the morning at Times Square."
Now enjoying one of the most remarkable, albeit lately downbeat, movie careers anywhere in the world, Anand has also finished writing his next film based on the June 1 massacre of Nepal's King Birendra and his entire family.
"Birendra and his family visited me in Bombay some years ago. They were close friends. They spent three hours at my office. I was shocked at the tragic deaths of King Birendra and Queen Aishwarya. I want to make a film that does not offend anyone but still tells a story," he says.
"The world is guessing what really happened in Nepal. I was affected by the tragedy and decided to make a film about it. I am going to visit Nepal and speak with the royal family and others to see how best I can make a film about this sensitive subject. If nothing else I can always make a film about an imaginary kingdom."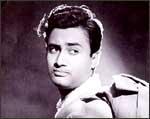 An optimist, Anand does not talk too easily about the failure of his films at the box office. "This is my passion. This is my life. I am easily excited by a new story or a new location. Failure or success is incidental for me. I have no time to think about the outcome of what I make because I have already moved on."
Anand will shoot in the U.S. for more than three weeks during which he wants to "set the Mississippi on fire with publicity about an Indian star and director making a film here."
He is also preparing to pen his autobiography, talks for whose publication are on with an American publisher.