'I'm not going role hunting in the West'
Subhash K Jha

Amitabh Bachchan is baffled by reports which say he's starring in director Rajiv Rai's (director of Pyaar Ishq Aur Mohabbat) next film.
"I'm surprised to see my name mentioned. There has been no communication (with Rai). I've not said yes to this film. And no, I'm not doing his film," says the superstar, whose popularity has peaked since he began hosting the TV game show Kaun Banega Crorepati.
Currently there seems to be an advertisement boom in Big B's life. The ads for Pepsi and Parker pens, directed by Rakesh Mehra (of Aks) and Mansoor Khan respectively, have taken the country by storm.
"The whole idea of the interaction with the little kid in the Pepsi ad was mine," says Amitabh. "And the idea of signing autographs galore in the Parker pen ad was mine too. I endorsed Limca earlier, now it's Pepsi. The ads are part of my contract with AB Corp Ltd."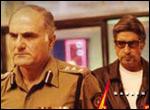 "I began with the BPL ads, directed by Rakesh Mehra. The ads help to keep the company afloat. In between the ads stopped coming to me because my career graph was on a downswing. BPL cancelled their contract, even Limca didn't extend the contract. But they've come back, now."
The Big B enjoy the 'ad' experience. "They're fun, if the director is capable. It is very challenging to tell a story in a few seconds. I'm negotiating a few more ads."
Speaking about his role in producer Feroz Nadiadwala and director Mahesh Manjrekar's Kutumbh, Amitabh says: "They're re-making The Godfather and making no bones about it. I think they've got Akshay Kumar to play my son."
"I've done several variations on The Godfather before -- Adaalat, early in my career, and Agneepath. Even Deewaar was a variation of the same subject."
"I haven't heard the script of Kutumbh, yet. But I suppose Mahesh Manjrekar's approach to the theme would be more raw and gritty."
"Ten years ago when I played a version of Marlon Brando in Agneepath I was much younger. Obviously this time I've to play it differently. I'll leave it to my director," he says.

Interestingly, Manjrekar will co-star with the Big B's in the start-to-finish schedule for Kaante, in the US, which he leaves for on September 1.
"I'm looking forward to Kaante. Director Sanjay Gupta has assembled a foreign crew and I'm quite excited about it. Besides the fact that we're doing the film at one stretch, the fact that there are only men in the film is quite unusual."
Reacting to a report in a section of the press saying he's interested in doing international films, he says: "I was asked if I would like to do international films. I said if they come to me I'd do it. But I'm not going role hunting in the West. If they come fine, though I don't see how an Indian actor like me can fit into international projects. I doubt they would design projects for me."
There's also a film with Yash Chopra in the pipeline. "We've met and discussed the project but nothing has been finalised. I've read about Madhuri Dixit, Kareena Kapoor, Rani Mukherjee and Uday Chopra being in the film," Amitabh says.
Indo-Asian News Service