Unbreakable: Best film at the Ammys?
Arthur J Pais
Manoj Night Shyamalan's suspense thriller Unbreakable, although ignored by the Oscars, is up an Ammy, a national film and television award instituted by "aMagazine" in 1994.
Unbreakable vies for the Best Hollywood Picture award given to a movie either directed by or featuring an Asian in the lead role.
Its competitors -- Charlie's Angels (Lucy Liu), Crouching Tiger, Hidden Dragon (Ang Lee), Autumn in New York (Joan Chen), The Center of the World(Wayne Wang), Final Fantasy: The Spirits Within (Ming-Na) and Kiss of the Dragon(Jet Li).
Unbreakable, among the more popular films last year, grossed $ 95 million in North America and about $ 150 million abroad.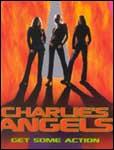 Shyamalan is among many Indian American film-makers and artists nominated for Ammys this year.
In the Best Independent Feature category, the nominees include ABCD: directed by Krutin Patel, American Chai (Anurag Mehta), American Desi (Piyush Dinker Pandya), Chutney Popcorn (Nisha Ganatra) and What's Cooking? (Gurinder Chadha).
Except for Chadha's film with deals with non-Indian minorities in America, the other four all dealt with Indian American experiences.
Chutney Popcorn received the best reviews and grossed about $ 300,000 in a limited release. American Chai has had a few screenings for desi audiences and is looking for a distributor.
American Desi criticized by many for offering a superficial, stereotypical image of the community, grossed about $ 900,000 in North America. Although The New York Times and trade publication Variety gave it thumbs down, The Wall Street Journal critic found the film entertaining
ABCD has not been released commercially. And What's Cooking? grossed about $ 1.1 million in North America.
Deep Katdare (American Desi) competes with Terry Chen (Almost Famous) and Chow Yun-Fat (Crouching Tiger, Hidden Dragon), Mako (Pearl Harbor) and Rick Yune (The Fast and the Furious) for the best actor prize.
In the Best Performance by an Asian/Asian American male actor in a televised production, Ravi Kapoor (Gideon's Crossing) competes with several actors including Garrett Wang (Star Trek: Voyager) and B D Wong (Oz)
The Best Performance by an Asian/Asian American female actor in a cinematic production has three desi actresses: Purva Bedi (American Desi), Nisha Ganatra (Chutney Popcorn) and Madhur Jaffrey (Chutney Popcorn). Their competitors include Joan Chen (What's Cooking?) and Michelle Yeoh and Zhang Ziyi (Crouching Tiger, Hidden Dragon)
The awards gala will be held at Orpheum Theater in Los Angeles on November 10.
Fans can vote by mailing in the official ballot found in the August/September issue of A Magazine. The deadline is September 1.
Click here to vote for your favorite film online.