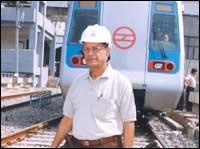 Elattuvalapil Sreedharan, who has given the nation the hugely impressive Delhi Metro project, has just been rated one of India's 50 most powerful people by India Today magazine. Others on the list include Ratan Tata, Mukesh and Anil Ambani, Azim Premji, N R Narayana Murthy and Nandan Nilekani, Sachin Tendulkar and Shah Rukh Khan.
But the 74-year railway engineer from Kerala, now the managing director, Delhi Metro, insists he is just doing a job entrusted to him by the government.
So inspirational has been his stint at the Delhi Metro that his office receives more than a dozen requests from all over the country every day, inviting him as a guest speaker. One of the organisations he addressed recently was a section of the Indian armed forces. Last week, students from America's prestigious Yale University arrived at his office to interact with him.
Following a disciplined regimen at work, he does not believe in his staff keeping long office hours. He leaves office around 6 pm, goes for a walk, enjoys yoga and spiritual reading, retires to bed at 9.30 pm and wakes up at 4.30 am.
In the second part of an exclusive interview to rediff.com Assistant Managing Editor Archana Masih, he spoke about the difficulties faced in setting up the metro, the sceptics who scoffed at the project and the politicians who stuck their heads out for it.
Part I of the interview: The man who achieved the 'near impossible'
How often do you travel by the Delhi Metro?
Not as frequently as I would like to. These days I travel when I have to accompany VIPs or if there is a problem that I have to see, otherwise I don't travel much. Now there are so many VIPs coming every other day so I have to be on the system along with them.
Have you had offers from the private sector to join them?
There were good offers to me when I was about to leave Konkan Railway. Even after taking over this assignment there were good offers from the private sector. By that time I had committed (myself to this project) and I had no intention to work for a private company at any stage.
Why was it so?
Because having worked as a government servant then changing your whole style, approach, system, procedures to suit a private party is very difficult so I never wanted to work for any private party later on.
After coming to Delhi Metro, there have been no serious offers to me except from the state governments wherever there are metro plans. All these state governments wanted me to join them straightaway and take over the projects. Karnataka, Hyderabad, Kochi, Mumbai etc -- but that would mean leaving Delhi Metro.
I can't handle the Delhi project and also do a project fully elsewhere.
I explained to them that I could give them all the guidance but if I work for a metro, it will be Delhi Metro. Otherwise I will retire and go back.
You said earlier that even politicians respect a doer. Do you think Indian babudom (the Indian bureaucracy) is changing?
Because of Delhi Metro, I wouldn't say it is changing but people have started taking note of the performance of Delhi Metro and the way it is run.
Many are keen to replicate the method but then a lot of changes are necessary in the governmental system. It will take some time for the country to change.
There have been some positive changes -- the Right to Information Act, e-governance etc -- but do you believe there is still a long way to go?
Yes, I feel there is a long way to go. We are not moving fast enough. We have shown the way how it can be done and it can be replicated by any government department, but they are slow to adopt it.
Everybody acknowledges it is a good system, it is a role model, good example -- but nobody is adopting it straightaway. That is taking time.
What were the biggest difficulties in building the Delhi Metro?
Oh, there were a number of them. Tunneling was very demanding and difficult. Building elevated lines without causing any danger to the public or delays was a big challenge. There are many technologies we adopted here like signaling. This country has not seen the type of signaling, the type of telecommunication system that we adopted. It is a real challenge to get these technologies transferred into this country.
Take the rolling stock, the trains. We don't want the trains to be imported. We wanted it to be progressively manufactured in the country. We have taken efforts and it has borne good results. BML in Bangalore has started assembling it in a big way -- a lot of things have to be imported for sure but a lot of things they do themselves. So this is taking place.
How much money has been spent on the project so far?
The project completion cost is Rs 10,570 crores (Rs 105.70 billion). We have not spent that much. Now the project is practically over. We only have to open another 2.8 kilometres, that's all. The work is about 80 per cent over.
My own assessment is we will definitely save about Rs 600 crores to Rs 700 crores (Rs 6 billion to Rs 7 billion) on the project cost.
What connection does the Delhi Metro have with the Indian Railways?
There is really no connection between Delhi Metro and Railways, except that both are rail-based technologies. But the happy thing is most of us in Delhi Metro are railway men, we have worked in the railways and have come here.
Many of the technologies that we have adopted here can be used by the Indian Railways. They can improve their coaches after studying our coaches, they can improve the signaling system, the civil engineering structure.
(The Government of India and the Government of National Capital Territory of Delhi, in equal partnership have set up a company named Delhi Metro Rail Corporation.)
Has there any initiation been made by the Indian Railways towards learning something from the Delhi Metro?
Unfortunately no. Next door (to them) these things are happening but they have not taken note of it. They don't want to benefit from this.
Although I remember when Nitish Kumar was the minister, he came and saw our work and went back and told the railway people that if this could be done in the Metro, why can't it be done in the railways also? But this has really not taken off in that fashion.
Who were the politicians who stood up for Delhi Metro?
The real big support came to us from Chief Minister Sheila Dixit and the previous lieutenant governor, Vijai Kapoor. He was a very strong support to us. He is a bureaucrat turned politician. These were from the state side. From the central side also, irrespective who the minister was from the BJP or Congress, all of them had a kind attitude towards Delhi Metro.
We could go to them for whatever help we wanted. I would say irrespective of political affiliations, politicians came out to make this project work.
This project is leading the way and you say that politicians cooperated, so the situation isn't that bleak, isn't it?
(Laughs) But we could move faster in this country. This is my complaint.
Is it true George Fernandes got you approval for the Konkan Railway project in three days?
Yes, that's right. The way he moved, it is surprising. I broached the subject to him at Lucknow over breakfast, he came back to Delhi. Next day he met the finance minister, the deputy chairman of the Planning Commission, the prime minister and told me that your project is cleared. Now put everything in place. He did it!
There were many sceptics about the Konkan Railway project, how much scepticism did you face when this project began?
In the initial stages very many were sceptical about it, perhaps out of ignorance, including top bureaucrats and top town planners of Delhi. They thought it is a white elephant and we are not going to get good returns out of it.
One bureaucrat told me this project will not be completed in 25 years. They said you are bleeding the whole city, that the money is not being left for anything else. All of them have changed their stand now.
Now there is so much support. Everybody wants a metro, there is so much demand for metro lines to be spread to other areas of the city. People who were talking against the metro are now for the metro and it has shown a few things very vividly.
One, whatever money we have spent on the metro, more than that wealth we have created in the city. Then it has changed the lifestyle of the people, how they travel. It is changing the social attitude, people have become more disciplined. They have started respecting a public asset.
More than anything else, the Delhi Metro has become the symbol of India's progress today to the whole world. It has brought so much attention to our country and our economic and technological leap forward.