Mathew Eipe, executive director & president (chemicals), Godrej, does not mince his words. Be it the country's economic structure, growth rate of GDP or the forthcoming Pan-IIT global conference, Eipe does not beat around the bush.
Having spent 30 years in the chemical department of Godrej, Eipe tells senior associate editor (features) Indrani Roy Mitra, why he looks forward to the IIT meet to be held in Mumbai in the third week of December.

Excerpts:

What is it about IITs that sets its graduates apart from others?
The IIT has a highly competitive selection process. The procedure is the best to select the creme de la creme among the students. Moreover, the IIT consists of a great global fraternity. The education system, which borrows heavily from some reputable American  institutes, is one of the best in the world.
When you made it to the IIT what was that experience like?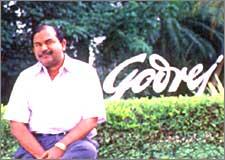 It was a wonderful experience. Living in a hostel was something I had never done before and I relished every bit of it. Seeds of some great friendships were sown in those days. However, as most of them are now in the US, we don't get a chance to meet. But as and when we do, we go down the memory lane. For instance, during the Silver Jubilee celebration of the 1975 IIT batch, we had a very nice time.
Did you have any role model who inspired you in your career?
Not really, As I told I you, I had some very good friends and sought inspiration from them. Most of them are now settled in abroad.
'Inspire, Involve and Transform India.' Can you dwell upon the significance of the theme for this year's Pan-IIT global conference?
India is now seeing the hey days of economy -- the GDP growth has been ranging  between 8 and 9 per cent for the past few years -- resulting a virtual economic boom. But at the same time, poverty is a reality. A great part of the population is still living below the poverty line and the IIT-ians should work towards eradicating that poverty. I don't know exactly how it can be done but it should be the national priority.   
Many IIT-ians have preferred to go abroad rather than work in India. Do you think this trend is changing now? How can India retain its talented people?
I am not aware of this trend. I think only statistics can give us the exact picture.
But speaking from experience, about 50 per cent of my friends went abroad on work post-IIT. Most of them did their masters in technology and some did MBA while some became entrepreneurs.

Many of them are working in big American corporations. Is it right or wrong? Let's not be judgemental. But let's make the best use of this brain drain as the Chinese have done, to improve the Indian economy. Events like Pan-IIT will go a long way in doing that.
In our times, India's economic scene was not as bright as it is today. We had a socialist structure but things have undergone a sea change and we are riding high on a rapidly developing structure. Therefore, many talents that had gone abroad are thinking of coming back and working here.
What are the challenges that India faces in the new millennium? How can IIT-ians help address these challenge?
The biggest challenge that India faces is poverty. A large section of the population is poor. Other issues are education, infrastructure, tax collection procedure etc.
What keeps India from becoming a product giant like it is in services?
Poor infrastructure, slow growth in export rate and above all poverty are the main hindrances.

What advice would you give to today's IIT-ians who are tomorrow's entrepreneurs?
I think this generation is a brilliant one, whose risk-taking ability is just amazing. I feel that today's young minds should capitalise on this skill and thereby take the nation forward.

What role can IIT-ians play to develop India as a knowledge economy?
Passing out of premier educational institutes, IIT-ians sure have an enormous role to play. They can play a significant part in formulating policies, especially education ones.
What would be your advice to people aspiring to join the corporate field?
The trend for IIT-ians is not to join the corporates. It actually depends on what kind of jobs they are looking for. But if they want to work in a corporate structure, they can always find great scope of work.

As for me, I spent about 30 years in Godrej, it's unusual but I am very happy and (I think) have done well (laughs).

In what ways have the earlier Pan IIT events helped? What projects has it worked on?
Since I have not attended any Pan IIT meet before, I won't be able to throw much light on this.

During the Silver Jubilee celebration of the IIT Mumbai 1975 batch, however, I saw huge contribution given away by former IIT-ians towards their institute. Such charities are definitely welcome and if Pan IIT helps in building such a bond of philanthropy, I will have reasons to look forward to it.
What does money mean to you?
Money is important in life but not the be all and end all of everything.
Should India have more IITs?
Definitely. But while setting up more such institutes, special care needs to be taken so that there is no compromise on quality.
Pan-IIT Conference: Complete Coverage

Participate in the PanIIT 2006 Global Conference! Click here to register now