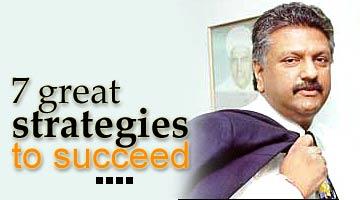 Ajay Piramal, Chairman, Nicholas Piramal India Limited, reveals how he achieved phenomenal corporate growth in a new industry by implementing a differentiated strategy.
---
You cannot fool yourself, reality will strike.
Five years ago, my management style was radically different from what it is today. I was a hands-off manager and had entrusted the running of the company to a professional manager.
However, over a period of time I realised that though the company was profitable it was not performing to its fullest potential. Delving deeper into the issue I recognised that the company was not moving in the right direction in terms of sustainability of profit levels, quality of people and retaining market share.
The first thing I did was to change the CEO and personally get involved in the management of the company. I took a step back, understood the basics, hired McKinsey to evaluate our strategy and then implemented it. My top management was restructured and we improved the quality and depth of management across the company.
We got out of unprofitable businesses and worked on maximising the value of the assets we owned. This was a huge challenge for me and it made me more detail-oriented and quantitative. I spend a fair amount of my time now in planning and thinking in order to identify performance levers, growth engines and the root causes of poor performance.
1. You have to think big. Because ultimately you are what you think you are.
For a good organisation to become great it should first have the courage to think big and challenge the rules. In 1988 when nobody was investing in the pharmaceutical sector we acquired Nicholas.
We were a product of what the strategists would call 'unrelated diversification' -- a textile group diversifying into pharmaceuticals with no apparent 'synergies.' However, I pressed ahead because of my conviction in my actions.
Another myth we debunked is that an acquisitive strategy cannot be sustainable or value-adding. We defied the market rules in every possible way and went ahead with our strategy and that has enabled NPIL to attain its current position.
We rewrote the recruitment rules of the pharmaceutical industry by handpicking our senior management members from varied fields such as management consulting and FMCG, in addition to the pharmaceutical industry. This has brought in diversified, out-of-the-box thinking and varied perspectives into the organisation.
Secondly integrity of the top is vital. According to me integrity is demonstrated when management says what it thinks and does what it says. And unless you find this integrity across the organisation you cannot get superior performance.
It is the responsibility of the leadership team to set the tone of integrity and ensure that it seeps across the company.
Third comes execution. It is not enough if a company just has a great vision and a strategy - it is equally essential to build a system that enables focus on excellent execution.
The human factor comes fourth. It is essential to choose the right people for the right jobs. I believe that it is the people of the organisation who actually differentiate a good company from a bad one.
2. The values of the employees should be harmonious with those of the organisation.
The biggest change that has occurred over the last few years at Nicholas Piramal is improvement in the quality of the people. To be a world-class organisation we felt that we needed better managers.
So we have raised the bar across the board -- in our recruitment, performance management and compensation systems.
Getting the right person is really a difficult process. It is difficult to understand or assess a person in the one, two or three interviews that we usually get. When recruiting a person I usually try to find out the basic value systems of the person because for us integrity is important.
I then try to judge the person's attitude: 'Is he a risk taker? Does he have the hunger to achieve more?' This is essential to us because we are an organisation with a healthy appetite for taking calculated risks. We believe in looking for the big breaks.
Our policy is to get the best people, pay them best-in-class salaries and demand superior performance from them. Thus, we have not only increased compensation levels, but also increased our performance expectation. We have a more rigorous performance evaluation system to measure and deal with the consequences of both good and bad performance.
Feedback is usually given across the table. If a person is not performing well then we give him clear feedback. We explain what was expected out of him and where he has fallen short of the mark. If we find no change in his performance after some time, then he may be asked to leave.
3. You must keep stretching your employees more and more.
I believe that you should give greater responsibilities to your employees and then judge their performance. I have found that talented people like being given more responsibility -- that is the way they learn and develop their professional skills.
Given the spiraling cost of good talent, it has become imperative to embrace the concept of lean management that says, "Hire the second person when you need the third." Though it is a risky proposition I have found this exercise worth experimenting.
I have been in the business for the past 27 years and I have made my share of misjudgments with people. But it has also served as a process of learning and growth for me.
4. It is essential to break barriers.
We are now working towards a more focused organisation. We have discontinued peripheral ventures and pumped in more resources-human, technological and financial - in areas that we found are really important to the future of the organisation.
We always look out to share and implement best practices from the industry. In order to keep up the flow of ideas, we recruit people from different backgrounds. As they are from different companies they bring in their own set of ideas.
We interact with different people from different industries and also organise management learning programs. During the course of these programs different people from varied industries are invited to share their ideas with us.
A programme called 'Breaking Barriers' has been designed for this purpose. In fact, we have asked each of our strategic business unit to look at the best practices of other companies (from pharmaceutical as well as other industries) and find out the feasibility of adapting them into our company.
5. Every company reinvents itself over a period of time.
When we acquired Nicholas we were in the early stage of growth. Having come thus far, I believe that we are in the early growth stage of another horizon. We have attained a certain size over the last sixteen years and keeping up the same growth rates is now a greater challenge.
In the last three years we have evolved into a company that is quite different from what it was twelve years ago. For a company to grow it needs a healthy mix of all four routes: organic, diversification, alliances and acquisitions at all stages.
In the last sixteen years, we have consistently maintained a sales growth of 37 per cent and profit growth of 39 per cent per annum. To be able to maintain this pace in the future, we have to not only grow organically but also through acquisitions and alliances.
6. Believe in your strategy and stick to it even if you are criticised for it.
Since inception as well as in the recent past, we have stuck to the strategy that we found convincing, even though other people insisted that we were not in the right space. We have always followed a differentiated strategy and are now convinced more than ever before that we are on the right path.
For instance, everybody in the pharmaceutical space looked at generic exports as a way of growth. We were hammered down by the analysts, consultants and journalists for not looking at the generic market and leaving out a big export opportunity.
Our international strategy is to collaborate with the innovator pharmaceutical companies in process development and custom manufacturing rather than compete with them in their home markets -- something that other Indian companies of our size are actively doing. This was not looked upon as a great strategy at that time.
But now people appreciate that this strategy offers greater sustainability and growth potential in the long run, with lower risk levels compared to other export strategies.
The same is true of our domestic strategy. When we talked about M&A in the domestic market, earlier people did not think that it was right. But now people are moving around it. So we have had a differentiated strategy in every sphere and our experience of the last three years shows that we are on the right path.
7. It is important to have milestones to motivate your employees.
All our strategies are drawn up for the long term and will easily need a 3-5 year time frame to yield results. In such a situation it is essential to have annual milestones to sustain the employee morale.
For example, in the collaborative model of exports when we get a large order from a big company today it is clear that we are on the right track. It may take two or three years for the first shipment to move after the order, but at least employees and the management knows that we have a firm order and the strategy is working.
Or for instance if you take research, it may take many of years to launch our own molecule. But there are clearly defined milestones in between, and if we measure not just the 'big bang' output, but also the interim milestones, we know if we are on the right track and people also get motivated to continue to work on the project.
I feel that people today are more convinced within our organisation that the strategy is right -- more than ever before. When we developed our international strategy, there was not complete belief from all quarters of the organisation because we were all victims of what we read and heard from the outside world.
And when it was differentiated not many believed that this was the right thing to do. So we had to do a big process of concentration, communication and information. And now as they see results coming through, they also believe that this is indeed the right strategy to follow.
The author is Managing Editor, The Smart Manager.
Powered by
Published with the kind permission of The Smart Manager, India's first world class management magazine, available bi-monthly.