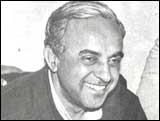 It was going to be a stormy session in Parliament for the ruling United Progressive Alliance government with the Bharatiya Janata Party demanding Finance Minister Palaniappan Chidambaram's resignation for allegedly letting his lawyer wife Nalini Chidambaram handle income tax cases. And it was.
AIADMK MP N Jothi first alleged in the Rajya Sabha that Chidambaram had 'helped his wife Nalini Chidambaram' take up the income tax department's cases.
BJP spokesperson Sushma Swaraj also demanded the finance minister's resignation, alleging he had 'helped his wife get a job that has huge financial benefits. She will get Rs 2 lakh for every hearing representing the IT department.'
But Nalini Chidambaram says her husband was in the dark about her taking up a case for the IT department, which operates under the finance ministry's purview.
The finance minister on Monday told Parliament he had no idea his wife was taking up the Central Board of Direct Taxes assignment.
Jothi is unwilling to accept the explanations given by the finance minister, his wife and the CBDT. According to him, there are holes in their statements as the department is still silent about the amount of money that was paid to Nalini Chidambaram, who says she got a 'modest fee.'
Why are they not coming out with the actual figure asks the MP who handles Tamil Nadu Chief Minister J Jayalalithaa's cases.
Meanwhile, Janata Party President Dr Subramanian Swamy, who has just returned after a teaching stint at Harvard, draws parallels between what happened with the Chidambarams in the 1990s and now.
In an interview with Contributing Special Correspondent Shobha Warrier, Dr Swamy explains why the Opposition wants the finance minister to quit.
You drew a parallel between the controversy now surrounding the Chidambarams and the one that occurred in the 1990s when P V Narasimha Rao was prime minister. What similarities do you see in the Fairgrowth affair and what has happened now?
The company Fairgrowth was under CBI investigation at that time. Chidambaram then was the junior commerce minister and he bought the promoter's shares and sold it at cheap rates. Later, he said it was his wife who had set aside the money.
In this particular case, there is no clarity on who the aggrieved party was in the high court when Nalini Chidambaram was defending the income tax tribunal. Nobody seems to do any research on that. Please find out whether the other party is related to Chidambaram or not. Furthermore, she lost the case, and the income tax department had to pay Rs 2.5 crore (Rs 25 million) to meet the other party's demand.
This is not an isolated case. In Bangalore, she has always taken up income tax cases at the high court. It hasn't been exposed in Bangalore because Karnataka has a Congress government.
This is not a simple case of somebody owning moral responsibility; it is a case of nepotism.
Nalini Chidambaram says she is an independent professional and has every right to take up any case. What are your views on this?
She has no right as she claims. She cannot take up cases where her husband is involved. It is like saying I am an independent lawyer and I can appear before my father who is the judge. You can't and you should not.
Is it not a fact that she has appeared on behalf of her husband's ministry in matters concerning her husband's brother? This particular case has become a big issue but it has been going on for the last one year very systematically.
Don't you think her move was morally right?
How is it moral? They are making money from it. Besides, if she goes on losing the cases, the other side gets a big bonanza.
The income tax department issued a statement that it regretted forcing Nalini Chidambaram to take up the case.
What do you expect the department to say? Why do you expect the officers to stand up?
Mr Chidambaram has written to Prime Minster Manmohan Singh and Congress President Sonia Gandhi that he was not aware that his wife was appearing for the IT department.
His role in this case is very clear and he must resign. What the AIADMK MP said was absolutely correct. The MP said, 'He (Chidambaram) doesn't seem to know what is happening in his ministry. Now he doesn't seem to know what is happening in his house. What kind of a person is he? Does he know what is going on in the country?' He has raised a valid question.
I cannot believe the income tax tribunal will select a lawyer to represent it knowing her to be the finance minister's wife and not inform the minister.
Mrs Chidambaram says there is no impropriety in what she has done.
She is bound to defend herself. What else can you expect her to say? Impropriety is a small part of it.