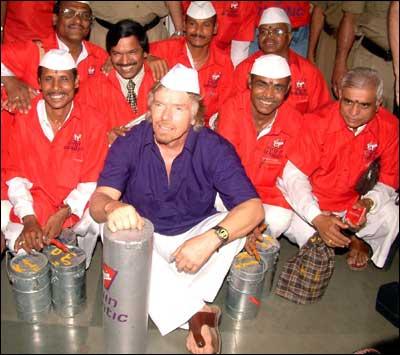 As part of experiencing the flavour of Mumbai city and its local trains, Virgin Atlantic Airways founder chairman, Richard Branson on Friday travelled in a local train along with the famous
dabbawallahs
of the city.
Showman Branson boarded the second-class compartment of a local train at Andheri along with over 25 dabbawallahs (tiffin-box carriers) and interacted with them till the Churchgate railway station.
"It was a lovely experience to interact with them. I enjoyed carrying a dabba with me," Branson, holding a big tiffin-box, said on reaching Churchgate.
"It is always good to experience the local flavour of the city with local people rather than sitting in a hotel. It is fascinating to enjoy the feel of the city with such a simple group of people," he added.
Striking a pose in the traditional 'Gandhi' cap of dabbawallahs, Branson said: "I am going to deliver food in this dabba to my office people."
Arjun, a dabbawallah who travelled with Branson, said the flamboyant Branson mingled freely with them. "He travelled with us from Andheri to Churchgate and spoke to us as a friend. We felt proud," Arjun added.  -- PTI
Virgin Atlantic Airways Chairman Richard Branson with Mumbai's dabbawallahs on Friday. Photo: Arun Patil