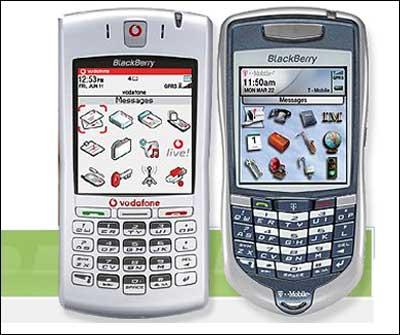 If you are planning to impress your favourite clients this festive season, here's a nifty product. BlackBerry handhelds, which combine the functions of a mobile phone and a personal digital assistant, are about to hit Indian shores.
BlackBerry, made by the Canada-based Research in Motion (RIM) Inc, is one of the hottest selling handheld devices across the globe.
The company has tied up with telecom major Bharti to market the products and its services in the country. Bharti will bundle the BlackBerry sets with an Airtel connection and specialised services, primarily targeted at corporate clients in the country's five major metros.
It's not a phone for bargain seekers. The phone could rip a hole in your pocket as it is likely to be priced from Rs 20,000 to Rs 30,000. However, cheaper models will also be introduced later -- a new BlackBerry 7100 phone is about to hit the globe for an attractive $200.
Though a Bharti spokesperson declined to comment on the tie up, sources in the know said the company was finalising the tariff for services like instant corporate mail.
BlackBerry phones are known for various innovations, including a unique "push" technology by which office e-mails can be sent automatically to the device as it arrives while on the go. There is no need to retrieve the mail. Of course, you need a BlackBerry server at your office backend.
Blackberry also offers 'SureType' technology, which allows users to quickly and accurately dial or type either using single-handed operation or two-handed thumb typing, without the limitations of traditional phone keypads.
There are no dual keypads, peripherals or hardware transformations required, and there is no need to learn a new way to type.
To help facilitate easy spelling and composition, SureType includes intuitive software with a word list of over 30,000 words and the ability to increase that list based on the frequency of use and the names in the handset's address book.
RIM Inc is a strong player in the global mobile handheld device market. BlackBerry devices have increased their market share from 2.7 per cent last year to 8.2 per cent this year, trailing only market leader Nokia, Palm and HP. As many as six million handheld smart phone devices were sold in the quarter between June-August this year.
Blackberry, of course, is expected to face competition in India from Compaq's Ipaq which is also due to make an entry soon. 
-- Business Standard