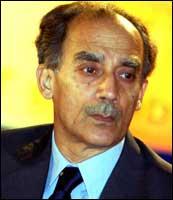 It's a problem of plenty for many members of Parliament. How should they spend the Rs 12 crore (Rs 120 million) given to them as part of MPLADS -- the Member of Parliament Local Area Development Scheme?
Most spread it on a mix of roads, children's playgrounds and other do-good projects. Former minister and journalist and sitting Rajya Sabha member Arun Shourie, however, had a completely different idea about what should be done with the money.
For starters, he wanted to spend all the money he received over a five-year period on one multi-crore mega project. The only question was identifying the recipient.
"People just spend Rs 10 lakh (Rs 1 million) or so, on each project and the money is just frittered away," he said. "I didn't want to do that."
But the former telecom minister also had a few more pre-conditions. Turning his eyes to the future, he wanted to put the money into an area of frontier research. He wanted to tie up with an 'institute of excellence' and he wanted the money handed over directly.
"I didn't want to be involved in the handling and distribution of the money. The institute had to be one which had such a clean reputation that it was above question," Shourie said.
Finally Shourie had one more condition -- he wanted the building to be modern state-of-the-art construction with energy saving features. "I was very clear that if a building was involved, then it should be an education by itself."
The result is the new Biological Sciences and Bioengineering (BSBE) department at the Indian Institute of Technology in Kanpur. The 16-lab department is housed in a 64,000 sq ft building equipped with the latest research tools needed for molecular biology and other types of bio-engineering.
Inside the BSBE's portals a faculty of eight and about 75 students are carrying out research in a range of cutting-edge fields like DNA sequencing, tissue restructuring (which involves creating artificial human skin), bioinformatics and computational biology.
There have been hiccups along the way, from the time that Shourie began confabulations with IIT-Kanpur. For a start, there was a problem of scale.
When Shourie first approached the institute, the dean and the top professors assumed he would be writing a cheque for around Rs 10 lakh. Accordingly, they put forward a proposal to develop software for the visually handicapped which would have cost around that much.
But, once they understood what Shourie had in mind, the top brains of IIT-Kanpur didn't find it tough to come up with a proposal to fit the price tag. In fact, they already had one or two at the blueprint stage. There was the bio-engineering department which was a high priority and there was a proposal for a management school.
"Since Arun Shourie wanted to contribute towards frontier research he selected the bio-engineering project," says N Sathyamurthy, dean, faculty affairs, IIT-Kanpur, who was the coordinator of the National Advisory Committee set up to respond to Shourie's proposal.
Shourie immediately okayed the bio-tech proposal. After all, India has already firmly established itself in biotechnology and it is ranked 12th globally in this field. And the statistics are encouraging: The industry is growing at around 25 per cent annually.
What's more, India should generate around $5 billion from the field by 2010. Crucially, the biotech sector is expected to create more than 1 million jobs in India in the next five years. Says Shourie: "Pharmaceutical research and bio-engineering is the future."
Even after Shourie had given IIT-K the thumbs up, there were other impediments. Under MPLADS rules, an MP is allowed to spend only Rs 10 lakh per project.
Shourie had to work around the government's red tape and get special permission from the then prime minister Atal Bihari Vajpayee to spend all the money on one project. Once he had Vajpayee's green signal he had to steer his proposal through committees in both the Lok Sabha and the Rajya Sabha.
Here a spot of artful jugglery became necessary. The entire project was divided into eight sub-projects in order to fit the rules. While seven sub-projects were related to acquiring infrastructure, the building's construction was the eighth sub-project.
Construction started in April 2002. Nearly Rs 6 crore (Rs 60 million) or 50 per cent of the total Rs 12 crore went towards putting up the 64,000 sq ft building which was completed in 18 months. It has 16 laboratories, a seminar hall, library, classrooms and teaching labs. Another Rs 6 crore was spent on laboratory and other equipment.
While the infrastructure was still being put in place, IIT recruited a faculty of eight professors and assistant professors, each an expert in his field. Interestingly, none were ex-IITians. In fact, all of them were recruited abroad.
Says Dr Pradip Sinha, head of the department, Biological Sciences and Bioengineering: "These people were looking for an opportunity to return to India. However, lack of infrastructure always comes in the way of research and that is frustrating. Once they realised that IIT could offer them world-class infrastructure, they returned to India and took up jobs here."
Today, the department is working at full swing and has started PhD, M.Tech and B.Tech programmes. It already has around 30 students enrolled for PhDs, another 20 students for M.Tech and 25 B.Tech students.
Obviously, Shourie's money has all been spent. But the department has already tapped into other sources of funding. It has grants from the Department of Biotechnology and the Department of Science and Technology.
Also, two faculty members have each received Rs 2.15 crore (Rs 21.5 million) from the UK-based Wellcome Trust to carry out research projects for the next five years.
Then there are the former IITians. Recently $100,000 was donated by an ex-IITian to the BSBE department. The donor specified that the money should be spent to build bridges with industry.
So, the money can be spent, for instance, on inviting experts from industry to the campus. Or, alternatively it can be spent on sending students to companies for internship.
At another level, hi-tech giant IBM has recently donated equipment worth Rs 1.75 crore (Rs 17.5 million) to the BSBE department for use in research relating to bioinformatics and computational biology.
IIT-K has, in fact, been receiving generous donations in recent years -- despite the controversies stirred up by Murli Manohar Joshi. The most generous contribution has come recently from N R Narayana Murthy who wrote a Rs 25 crore (Rs 250 million) cheque for the institution.
The money will be spent on a new hostel for visiting faculty and a computer research centre. Then, there's Satish Kaura, managing director, Samtel Technologies who has donated Rs 5 crore (Rs 50 million) to build a Samtel Centre for research in display technology.
However, the top brass at IIT-K are painfully aware that they must constantly raise more money to keep the academic programmes at full swing. So, it's planning an industry-academia meet on bioengineering early next year.
Says S G Dhande, Director, IIT-Kanpur, "We would like to make industry aware of the facilities available at IIT-Kanpur so that they ask us to undertake research for them."
However, he's clear that BSBE would be interested mainly in high-end research. Says Dhande: "If routine work is outsourced, then the academics are not excited. We would like the industry to approach us for high-end research."
Shourie too feels, that industry participation is a must. "Collaborative research must start." Shourie is actively involved in ensuring that the industry-academy meet is a success.
"When students graduating from IIT join industry they would be the ambassadors of the institute and industry will realise the potential of the institute," he says.
IIT also has other plans to ensure research is commercially viable. It has set up an Intellectual Property Rights cell through which patents can be filed.
Says Dhande, "Indian institutes do not generate revenue through intellectual property. Across the world they do. We would also like to earn revenue through IPs."
Currently, IIT-Kanpur receives 70 per cent of its funds from the government, 22 per cent from industry and 8 per cent from alumni and endowments. However, Dhande would like that to change.
"We hope that soon we would be able to reduce our dependence on the government. We would like only 50 per cent of our funds to come from the government, while we hope industry contribution will increase to 35 per cent and the alumni would contribute at least 15 per cent," he says.
In order to increase industry participation, IIT has plans to invite leading businessmen in bio-tech to join its board.
Shourie is pleased at how the project has worked out. He has recently been elected to the Rajya Sabha for a second term and once again has Rs 12 crore to spend.
He's planning to give the money to IIT-K once again this time for a research centre on environmental remediation where research would be undertaken to find solutions to various environmental problems such as air and water pollution.
Once again the IIT top team is putting together a project report so that he can get permission to spend the money. "After the success of the BSBE department at IIT-Kanpur, I'm confident of getting permission to contribute the entire funds towards the environmental remediation centre," he says.
Shourie believes environmental remediation is the need of the hour. "It is a great problem which can be converted into a great opportunity. Once we have found solutions to our environmental problems, we can market these solutions to Europe."
Shourie has made his mark on Indian public life as a journalist, minister and legislator. But on the IIT-K campus he has left a memorial in bricks and mortar.
---
Economising on energy
From the outside it doesn't look like an avant garde construction. You've got to get into the innards of the BSBE building to understand the differences -- and it helps if you have an architect or an expert along for a guided tour.
One of Arun Shourie's key specifications was that the building should be a model of its kind, particularly from the environmental point of view. Keeping Shourie's directive in mind, the architects have used every trick and modern device to ensure that the building is both energy-efficient and environment-friendly.
In order to ensure that the temperature inside the building is maintained, the walls and the roof have been insulated and the windows have been double glazed. Also, the roof has been fitted with broken china mosaic to reflect heat.
Deciduous trees have also been planted on the south side so that they provide shade in the summer and once they shed their leaves in the winter, they allow in more heat and light.
Shourie was impressed by the energy-efficient measures used by the Tata Energy Research Institute and therefore IIT-K invited TERI's architects to be consultants for the project. The result was the construction of an earth tunnel to pre-cool the outside air, a technology pioneered by TERI.
Under this system a tunnel is dug four metres below the surface and all air coming inside the building passes through this tunnel. At this level the temperature is nearly constant throughout the year at 28 degree Celsius.
Hence, the temperature inside the building is maintained throughout the year at between 26C and 30C. This does away with the need to air-condition the corridors and other common areas.
The labs which are maintained at a temperature of 22C also require the temperature to be brought down by only 6C and hence the load on the air conditioning is reduced.
"As a result of all these measure we have been able to bring down the air conditioning load from 200 tonnes to 142 tonnes -- a saving of 29 per cent," says Santosh Kumar, superintending engineer and head, institute works department, IIT-Kanpur.
Then there's solar power. Building Integrated Photo Voltaic panels have been installed over the central atrium to harness solar energy and to convert it into electrical power for the building. The lighting installed in the common areas such as the staircase and corridors is powered with solar energy.