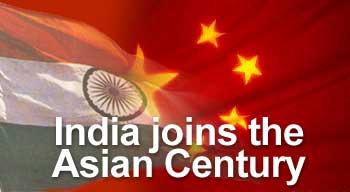 Remember the "Asian Century"? Back in 1998 it seemed to have ended even before it had begun. The so-called Asian Tigers had collapsed almost as suddenly as they had arrived on the world economic scene. Pessimists argued it was all a bubble and that rebuilding would take a decade or more.
Here we are in 2004 and it's time to talk about the Asian Century once more. But this time we are talking about an Asian Century that's very different from the one envisioned five years ago. Now the giant in the left-hand corner is China, growing in leaps and bounds, gorging itself on steel and other commodities from around the world.
But the even more unexpected development is that India has suddenly become part of the Asian Century. Call it India Shining, India Rising or whatever you will, it's a development that the world hadn't really foreseen. An economically powerful
India would be, "the second pole" that would make the region more powerful than anyone had imagined.
Now, everyone is rapidly redoing their calculations. As Jean-Pierre Verbiest, assistant chief economist, Asian Development Bank said in early December: "New and very large tigers are growing up. PRC (China) has now joined the group, and India is increasingly on its way to join, and will do so in the decade to come. Together, the new and old tigers will make the twenty-first century Asia's century."
India is never going to be an 800-pound gorilla like China -- at least not in the near future. But it could become a powerful 500-pound beast that will pull far more economic weight than anyone had ever expected back in the early '90s when its foreign reserves were still in the single-digit billions.
Is this pie-in-the-sky wishful thinking? Let's say it won't happen overnight -- and, as always, there are lots of ifs and buts. India's interaction both with China and South-east Asia are still at relatively low levels. But there are signs of a fast pick up.
India-China trade has, for instance, climbed from a paltry $300 million in the early '90s to around $5 billion. Similarly, two-way Indo-Asean trade is around $12 billion currently, but the Government is convinced it will climb to $30 billion in three years.
These figures are important because the Asian century is looking a whole lot different from what it did five years ago. That era depended heavily on exports by the South-East Asian nations to richer countries like the United States. Today's Asian Century will be fuelled by entirely different factors.
Firstly, there will be inter-regional trade among countries like India, China and the smaller nations of the region. Verbiest points out that "Typically, for all these regional economies, the share of total exports going to China has doubled since the start of 2000. China has already overtaken the US as the main export market for Korea (about 20 per cent of Korea's exports)."
Verbiest adds: "Long-term growth estimates indicate that the size of India's economy could reach about $1 trillion a decade from now, about double today's size. In a decade, China and India together would have an economy about the size of that of Japan today, but a fast expanding and dynamic economy."
For once the Indian government appears to understand the opportunities that are coming its way. When Atal Bihari Vajpayee addressed Asean earlier this year his speech was all about bits, bytes and the need to boost trade. Also, the Government is talking about free trade zones with countries like Thailand.
Back in the early '90s, Fortune wrote a lengthy cover story on the Asian miracle without even once mentioning India even tangentially. Today, somebody has started a magazine called Asian Century -- and it talks about everything from Bangalore's software professionals to Indian shopping malls.
Says the magazine editorial: "The fastest-growing technology companies in the world are Asian -- Wipro, Huawei, ZTE, Samsung and Infosys. And lately, we see that the buyers of what were previously American-funded regional infrastructures -- the Flag Telecoms, the Global Crossings and so on -- are Asian."
Any of those names sound familiar?
Powered by