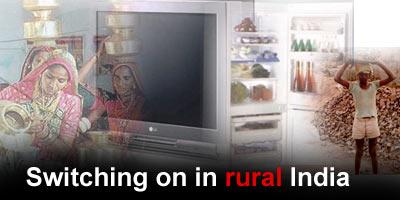 It's a twin-pronged strategy that has worked brilliantly for LG Electronics, India. Two years ago the company's top brass was debating how to reach out to rural India.
At one level, the company figured it needed new cheaper products to lure the rural buyer. At another level, it figured that more offices in smaller towns and cities were the need of the hour.
LG moved quickly on both fronts. At one level, it has introduced cheaper products like it Sampoorna television range. At another it has gone on an office-opening spree in India's smaller towns. Currently, it has 40 branch offices. That will climb to 150 by year end.
Says Anil Arora, head, marketing, LG India: "A chunk of our revenue was coming from that segment and there was potential to grow it even further. Greater penetration has meant greater focus."
But LG isn't the only white goods manufacturer that is striking deep into rural India. There's also Mirc Electronics which late last year launched its Operation Vistaar (meaning expansion).
Mirc is already selling a second-string brand Igo which is slightly cheaper than its Onida range. Mirc says that both Igo and Onida are selling in the rural areas. Recently the company has hired another 100 people for its Igo team.
Cracking the rural market has become the holy grail for scores of Indian companies. Now the white goods manufacturers are hoping to catch the eye -- and the wallets -- of the out-of-towners in a bigger way than ever before. As a result a rural bloodbath between white goods giants is clearly on the cards.
The reasons for heading into the rural areas are fairly clear. The urban consumer durable market for products like colour TVs, washing machines, refrigerators and airconditioners is growing annually at between 7 per cent and 10 per cent.
By comparison, the rural market is zooming ahead at around 25 per cent annually. "The rural market is growing faster than urban India now," says Venugopal Dhoot, chairman of the Rs 989-crore (Rs billion) Videocon Appliances. "The urban market is a replacement and upgradation market today," adds Samsung's director, marketing, Ravinder Zutshi.
Leading the way is LG. In 2002, 60 per cent of its turnover came from the urban market. Today, that's down to 40 per cent. The majority of LG's revenues are now coming from smaller towns like Hapur, Trichy, Jorhat and Asansol.
Videocon, which sells about 40 per cent of its products in the rural areas, has just begun a fresh thrust to boost sales outside the metros. It's hoping that by year end about 55 per cent of total sales will come from the rural areas. But it isn't designing new products for rural customers.
So an entry level 14-inch Videocon CTV will sell for Rs 7,000, both in the cities and the villages. "The thrust is on CTVs, tape recorders, refrigerators, DVD/VCD players as demanded by rural India today," says Dhoot.
Some companies are playing the game slightly differently. Samsung, for instance, insists that it's a high end technology driven player. That's why the urban areas are still a focus area for it and only 30 per cent of revenue comes from rural and semi-urban India. "We have always been a hi-end technology driven player and want to keep that equity," says Zutshi.
Nevertheless, in the last two years, Samsung has looked at increasing awareness and penetration of its products in second rung cities like Bhuj, Porbandar and Jalandhar. The Samsung Dream Home road shows across the length and breadth of the country have been a step in this direction.
"We don't have a rural model or different pricing strategy. But the products are focused on semi-urban or urban markets," says Zutshi.
Similarly, Mirc says it had to be careful about diluting the Onida brand. Igo, at Rs 5,000 for a 14-inch TV is priced Rs 500 to Rs 700 lower than the national brands.
"We didn't want to dilute Onida's mid to premium brand equity by making it mass market," says V Chandramouli, vice president- marketing, sales and service, Mirc Electronics Limited.
At another level, there's Godrej Appliances that has learnt its rural lessons through trial and error. Today, it is present in 900 towns of which 450 have a population above 100,000. Another 250 are towns with less than 100,000 residents.
Says Soumitra Ghatak, executive vice president, Godrej Appliances, "There is money today in the rural household. So clearly we're looking at dropping anchor. The fear is not being on their radar."
To match its new aims, for the first time, Godrej will be advertising on Doordarshan. Till now the company has always advertised on cable television. The company has also redefined its target group from SEC A, B and C to SEC D as well. Godrej's direct cool refrigerator range starts at Rs 6,500.
Godrej admits that it fumbled on the way when it tried to sell cheaper products. Two years ago it tried to sell a stripped- down fridge called Champion with only half a freezer.
However, sales did not pick up so it had to be rejigged and relaunched with a full freezer. "Product features are important, rural customers are just as aware as the urban," says Ghatak.
But LG's example shows that revenues can rise quickly if you get the mix right. The company says that earlier a single branch office catered to Chandigarh, Jammu & Kashmir, Punjab and generated Rs 18 crore (Rs 180 million) per month.
Now with more branches, revenue in the same area has gone up to Rs 50 crore (Rs 500 million) per month. Similarly other states like Rajasthan now have two branches -- Jodhpur and Jaipur -- instead of one.
The company has also taken other initiatives like 65 Remote Area Offices under the branch offices that are empowered to directly link to the central billing system for orders, 230 service centres and 2,600 mobile authorised service personnel for villages having below 10,000 residents. All these moves are part of LG's efforts to push turnover to a whopping Rs 7,000 crore (Rs 70 billion) by year-end.
All this is great music for rural dealers. A city dealer will today sell a CTV by cutting into his margin, closer to the dealer price rather than the  marked retail price. So while he makes 5 per cent to 7 per cent, rural dealers make 7 per cent to 10 per cent on a sale. "Volume makes up in the city whereas value makes up in the rural area," says an industry observer.
Also, the increased rural focus doesn't mean the urban market will suffer. Samsung, Onida and even LG are aggressively looking at the urban replacement market for their hi-end premium product range.
Who will emerge winner in this battle? Industry players warn of dangers in the aggressive rural ramp up. For one, stripping product features in order to lower prices, as some brands are known to do, players say is a dangerous game to play. Then there are other external problems to surmount like the irregularity of electricity supply and lack of finance options.
"Cracking the rural market is easier said than done," says Godrej's Ghatak. Adds an industry observer, "The rural market will not be about pricing but about how the customer is serviced and treated. If one consumer is not happy, the entire village will know and the company can then kiss that market goodbye."
Powered by