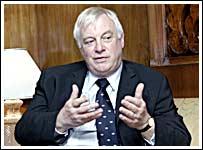 According to some reports, the first Englishman to have visited India was a Father Thomas Stephens, who arrived in Goa in 1579. Cut to 1681, when the East India Company agreed to support four scholars annually at the University of Oxford. The first Indian students to take degrees at the university came up in 1871. Today, there are over 160, with 670 alumni resident in India.
All of these facts and figures come into play when finds oneself in conversation with Lord Chris Patten, Chancellor of the University of Oxford, currently here to strengthen the United Kingdom-India education relationship. It doesn't seem like a hard task, considering this is a university that has given the world six kings, 46 Nobel Laureates, 25 British prime ministers, three saints and 86 archbishops. And yet, there aren't as many Indian students going to Oxford as the university would like.
It is a rather unusual role for Patten, one he has held since 2003. But, like everything in his past, he appears to have adapted admirably. He turns 62 this year, and the last 15 years have seen him move from prominent Conservative politician to his most famous post -– that of last British governor of Hong Kong. From 1998 to 1999, Patten chaired the Independent Commission on Policing for Northern Ireland, better known as the Patten Commission. He was then European Commissioner for foreign relations, returning to Britain to be raised to the peerage.
Hong Kong was handed over to the People's Republic of China on June 30, 1997. At the centre of that media frenzy was Patten, who handled what was a tough job extremely well. These days, he is better known in India as the father of Alice Patten, who played a lead role in the film Rang De Basanti.