Out of the 20 films that Manmohan Desai directed in his career span of 29 years (1960-1988), as many as 13 films were stupendous hits. His success ratio was 65 per cent, in an industry where flops abound.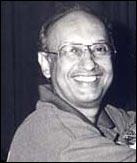 For a spell of nine years (1973-1981), success seemed to obey every command of Desai. In this phase, he delivered only hits, most of them Amitabh Bachchan-centred enterprises. It seemed as Desai could keep his finger pressed unerringly on the pulse of the audience.

What was the 'X' quality in Desai's films that made them such crowd-pleasers? His films had a surfeit of identifiable emotions incorporated into fantasies. His flight of imagination could accommodate the unthinkable -- in Sachcha Jhootha, drinks are mixed with a potent substance that makes an entire collection of people freeze into inaction; in Amar Akbar Anthony Amitabh, Rishi Kapoor and Vinod Khanna simultaneously offer blood via three tubes to their mother Nirupa Roy; in Dharamveer a falcon plays the hero's love courier and saviour.
Manmohan Desai's famous songs

 Song

 Film

 Singer

Dum dum dig diga

Chhalia

Mukesh

Govinda aala re

Bluff Master

Mohammed Rafi

Kajra mohabbatwala

Kismet

Shamshad Begum, Asha Bhosle

Meri pyari baheniya banegi

Sachcha Jhootha

Kishore Kumar

Ghum hai kisike pyar mein

Rampur Ka Lakshman

Lata Mangeshkar, Kishore Kumar

Tera mujhse hai pehle ka

Aa Gale Lag Jaa

Kishore Kumar, Sushma Shresta

Gore rang pe na itna

Roti

Kishore Kumar, Lata Mangeshkar

Saat ajoobe iss duniya mein

Dharamveer

Mohammed Rafi, Mukesh

My name is Anthony Gonsalves

Amar Akbar Anthony

Kishore Kumar

Teri rab ne bana di jodi

Suhaag

Mohammed Rafi, Asha Bhosle, Shailendra Singh

Chal mere bhai
Naseeb
Mohammed Rafi, Amitabh Bachchan, Rishi Kapoor
Mard tangewala
Mard
Mohammed Aziz
In keeping with this director's style of telling a story in a linear fashion, let's rewind to the year 1936. It was the year in which Manmohan Desai was born in the house of Kikubhai Desai, the owner of Paramount studios. Babhubhai Mistri initiated him into films. In latter years, Desai's films bore the unmistakable stamp of his mentor Mistri's penchant for special effects and surreal elements.

At the age of 24, Desai directed his first film Chhalia (1960). Despite topnotch stars like Raj Kapoor and Nutan, the film was only a moderate success. However, Kalyanji Anandji''s score from Chhalia still resounds on the radio. Though he never cast Raj and Nutan again, they remained Desai's idols forever.

Keen to establish himself, Desai tried to conform and made listless escapist fare with 1960s youth icon Shammi Kapoor (Bluff Master, Budtameez) but could not bluff his way into big time. But Shammi's faith in good friend Desai was vindicated when Rajkumar (1964), a costume drama penned by Desai, hit the jackpot.

It was only a decade after Chhalia that Desai got his first whiff of big-time success. Sachcha Jhootha, a Rajesh Khanna double role starrer, showcased Desai's eye for the absurd and the emotional angle (the lost and found brother-sister track between Rajesh Khanna and a physically handicapped Naaz was one of the film's biggest draws).

Desai status as an in-demand director grew steadily in the early 1970s but films like Aa Gale Lag Jaa (1973), a terse tale of awry relationships, gave no hint of the joyous escapist fare that Desai would be associated with in the coming years.

The film that defines Desai best is Amar Akbar Anthony (1977). The film had rollicking music, several major stars and a script that had the purity of inspiration. Imagine a frisky ladies tailor Rishi Kapoor, a one-man band Vinod Khanna, and a perky padre Amitabh Bachchan, breaking into a jig in the villain's den. Or Amitabh breaking out of an Easter egg to play hide 'n' seek with Parveen Babi's bodyguard while he woos Parveen. The film spelt pure entertainment.

With three other thumping hits in the same year: Dharamveer, Chacha Bhatija and Parvarish, Desai was anointed as the box-office badshah in 1977.
Manmohan Desai's landmark films

Year

Film

Co-stars

1960

Chhalia

Rak Kapoor, Nutan

1970

Sachcha Jhootha

Rajesh Khanna, Mumtaz

1972

Bhai Ho To Aisa

Jeetendra, Hema Malini, Shatrughan Sinha

1972

Rampur Ka Lakshman

Randhir Kapoor, Rekha

1973

Aa Gale Lag Jaa

Shashi Kapoor, Sharmila Tagore

1974

Roti

Rajesh Khanna, Mumtaz

1977
Amar Akbar Anthony
Amitabh Bachchan, Rishi Kapoor, Vinod Khanna, Parveen
Babi, Neetu Singh, Shabana Azmi
1977
Chacha Bhatija
Dharmendra, Hema, Randhir Kapoor, Yogeeta Bali
1977
Dharam Veer
Dharmendra, Zeenat, Jeetendra, Neetu Singh

1977

Parvarish

Amitabh Bachchan, Vinod Khanna, Neetu Singh, Shabana Azmi

1979

Suhaag

Amitabh, Shashi Kapoor, Rekha, Parveen Babi

1981

Naseeb

Amitabh, Hema, Shatrughan Sinha, Rishi

1983

Coolie

Amitabh, Rishi Kapoor, Rati Agnihotri

1985

Mard

Amitabh, Amrita Singh


Interestingly, Desai could not create any woman character which was as involving as the characters he created for his heroes. A quick scan of his top songs' list indicates he scored better with solo male songs, or even male duets, rather than female solos or the male-female duets.

He either defied the women (Nirupa Roy playing the mother) or employed them as decorative dolls (even an intense actress like Shabana Azmi was used as a mere prop in both Amar Akbar Anthony and Parvarish).

Though Desai had made hits with Rajesh Khanna (Sachcha Jhootha, Roti), Dharmendra (Dharamveer, Chacha Bhatija) and Jeetendra (Bhai Ho To Aisa, Dharamveer), after AAA, he donned blinkers and could not see beyond Amitabh. He did employ the services of Shashi Kapoor and Rishi Kapoor, but the spotlight stayed firmly rooted on Amitabh.

Understandably so. Amitabh hit the bull's eye in a series of Desai entertainers: Parvarish, Suhaag, Naseeb and as the eponymous hero of Coolie and Mard. In all, the A-team delivered six straight superhits.
As an acknowledgement of Desai's goodwill and his box-office supremacy, stars from Raj Kapoor to Rajesh Khanna and Dharmendra made a special appearance in the Desai-directed Naseeb.

Desai attempted am ambitious star-studded communal drama, Desh Premee. Despite a star ensemble that read like a laundry list, Desai smudged his copy book.

His next two ventures, Coolie and Mard did well but his work now reeked of self-parody. Desai, a widower, got engaged to Nanda and attempted to begin life anew. But plans were rudely aborted when an ailing Desai decided to put a full stop to his life and career.

Desai probably could not digest the twin shocks of the failure of his swansong Ganga Jamuna Saraswati (1988) and his son Ketan's directorial debacles like Allah Rakha and Toofan.

Desai's films have been and continue to be a wellspring of hope and happiness to multitudes. Amitabh remembers him thus: 'Manmohan Desai emitted a lot of energy in his films and as a person.'