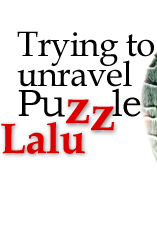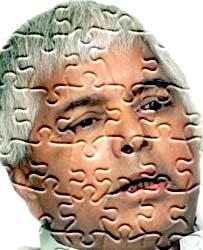 How many us can claim to understand Indian politics' best known brand, Lalu Prasad Yadav? How many of us know what the man is all about? Books have been written, documentaries have been made, pundits have carried out studies -- but Lalu remains an enigma.
Bihar has sunk deeper into the morass of corruption, anarchy and underdevelopment in the 15 years that Lalu and his wife Rabri Devi have been in power in the state. Yet, he wins an election when everybody believes he will lose it. He emerges out of scandals stronger. He wins new friends when everybody thinks he has been isolated.

rediff.com attempts to solve Puzzle Lalu.
It was a good time to try our hand -- Lalu is again being written off. People have again begun to believe Lalu has run out of luck and friends. Exit polls say it will be difficult for him to hold on to power in Patna when the assembly election results are declared this Sunday.

Senior Editor Sheela Bhatt hopped onto Lalu's chopper and covered 10 villages with the Rashtriya Janata Dal chief in a day -- Patna to Jalalpur-Baniyapur-Maharajganj-Darauli-Jiradevi-Mairul-Siwan-Godiakothi-Vainkthpur-Basatpur and back. Over 350 km. Read on to find out if she emerged wiser from the experience:

It's 10:15 am. Lalu Prasad Yadav arrives dressed in a starched white kurta pyjama, white socks and white shoes. Ignoring waiting journalists, he gets into the chopper.

He has been reluctant to allow me to ride with him. But he changes his mind at the last moment. "Chalna hai," he asks. I say yes and jump in, determined not to give him time for a second thought.

As I settle down next to him on the plush leather upholstery, he says, "Deviji, not here. Sit on the opposite side." Chastened, I move to the seat opposite.

The seat I occupied for those micro-seconds is taken by Surendra Prasad, a member of the Upper House of the Bihar assembly. The reason he deserved the seat more than me becomes clear minutes after we are airborne.

Lalu throws a scornful look at the journalists and camera persons outside, and mutters, "Saale, sab Bhajapa wale hain (Bloody, all BJP supporters)."
He does not strap the seat belt on. Nobody tells him to.

As we gain height, Lalu pops in a paan. There are 20 neatly wrapped in a wet cloth in a stainless steel box. It will be a long day.

As the paan settles in the left corner of his mouth, creating a small bulge, Lalu stretches his arms in front to him. On cue, Surendra Prasad begins massaging his palms, cracking his knuckles.
Surendra Prasad obviously has this routine by heart. Without Lalu muttering a word, Prasad offers him a chrome-plated spittoon when it's time. After his leader is done, he dutifully wipes his mouth with a spotless white napkin.

After the paan, it's time for a dose of raw, dry tobacco leaves. Surendra Prasad grinds the tobacco leaves into fine powder in his palm and gives it to Lalu. Lalu holds the powder delicately between his thumb and index finger and places it carefully in his mouth.

This exercise would be repeated 12 times in six hours.
Lalu looks a little worried. The Congress had a gameplan for Bihar. It wanted Lalu to form the government with its help and that of Ram Vilas Paswan's Lok Janshakti Party.

Things have changed. The Congress and LJP look like ganging up against Lalu. He dismisses the theory with the wave of hand. "Nahin, nahin. Sonia Paswan ke saath nahin gayi hai (No, no... Sonia is not with Paswan)."

Lalu delivers his first speech of the day in Jalalpur. The speech will be repeated through the day with minor changes -- some local flavour, some inspired moments. He talks only of Godhra, his fight against communal forces and his place in the Union government.
There is no denying the fact that nobody can work a crowd like Lalu does. He connects with people and yet you can see the awe on their faces when they shout 'Lalu zindabad.'

"I have captured Delhi with the power you have lent me. Soon after taking over as railway minister, I ordered an inquiry into the Godhra incident. (Gujarat Chief Minister) Narendra Modi was spreading hatred. There is no evidence that Muslims set the train on fire in Godhra. It's a conspiracy to divide the country.

"We have found that the army was not deployed in time when riots broke out in Gujarat. Enemies entered Parliament and captured our territory in Kargil when the Bharatiya Janata Party was in power. The country was in chaos. I visited Pakistan to defuse the situation. How long can we afford to kill each other?"
Lalu is speaking in a village dominated by Rajputs, but the crowd mostly comprises Dalits, Muslims and backward classes.

They say the upper classes will vote for the Congress or the BJP-led National Democratic Alliance. Paswan's LJP may corner sizeable Dalit and Muslim votes. Lalu needs to do something, and fast.

As he approaches the dais at the next stop, Baniyapur, we hear a woman screaming into a microphone, "Paswan hates Dalits. He is ashamed to be a Dalit. He has abandoned his Dalit wife and married a Punjabi woman. He is a shame."
In the next village, Lalu reminds audiences, "Jab vote khaskava, to Hema Malini ko gumhava (When the Opposition saw its votes shifting, they brought in Hema Malini to campaign]."
At Patna airport journalists had told me Hema Malini has gone on record that she is Lalu's fan. Lalu returned the compliment in style. "Fan meaning pankha. If she is my fan, then I am her air-conditioner."

Lalu's lines almost always click with his audiences. Nobody knows if he prepares the lines. He does not carry written speeches.

The election meetings last around 15 minutes. He spends five minutes talking to candidates. They often ask for funds.

In one village when a candidate asked for money, Lalu shouts back, "Booth management karo, booth management karo." He then slams the chopper's door shut.
In Maharajganj, Rashtriya Janata Dal candidate Uma Shankar Singh is facing a problem. The police have locked up one of his sons and externed the other.

The Nitish Kumar-led Janata Dal-United, a National Democratic Alliance partner, is strong in the area.

As we take off, Lalu mutters under his breath, "Phir warrant nikala…hairan kar raha hain (Another warrant now. This guy is driving me crazy]."

In the next village, he uses his favorite metaphor -- the lathi. "Lathi piyavan, Patna lavan, Bhajpa hatavan, desh bachavan (We will oil our sticks, bring them to Patna, remove the BJP and save the country)"

The line is meaningless -- the BJP does not rule Patna, nor is it in power in Delhi. But when Lalu roars from the dais, he holds the audience's attention.

In Daruali, at last, Lalu touches upon on development issues. "I am a Cabinet minister. Because Bihar has captured New Delhi, no Bihari will have to leave his native place. All Biharis will get jobs in their villages."
In Darauli, RJD candidate Shivshankar faces a tough challenge from the Communist Party of India (Marxist-Leninist) candidate. "Yeh votekatva hi nahin, moondi katva bhi hai (This chap will not just undercut our votes, he will cut off your neck too if he wins)" Lalu tells the crowd.

Lalu breaks his day in a such way that he manages to spend time with Yadav, Dalit and Muslim candidates. His main plank is Godhra and his power as a Union minister.

He does not hesitate to say Muslims did not set the train on fire in Godhra. He says the Hindu pilgrims in the train were carrying tridents. The fire, he says, started from a stove in the compartment.
It's 2:45 pm. We are in Siwan. It's a tough battle between Lalu's RJD and Nitish's JD-U.

"How is (BJP president L K) Advani concerned with Ram? Nobody dared to touch refugee Advani. I tamed him in Samstipur," Lalu says, referring to Advani's arrest in October 1990, when he was on a Rath Yatra to promote the cause of the temple in Ayodhya.

At his next meeting, Lalu does something that only he can do. RJD candidate Avadh Bihari is delivering a speech. Lalu, sitting close by, nudges him. He wants Bihari to stop speaking. Lalu is speaking on his cell phone and Bihari's voice is interfering with the conversation. Bihari stays silent. There is pin drop silence on the dais. We can hear Lalu instructing someone to find out if there is a toilet nearby.

Lalu is a master at selling dreams. At one meeting he says, "Ab kam ke badle chawal aur tana tan paisa! Ab Dilli par kabja hoi gava (You will now get foodgrains for work and cash too. I have captured Delhi)"

As Lalu sells dreams, people listening to his promises and smart lines seem to have given up on Bihar.

"Is there any development in his village? Yahan to sab lootmar hai," Shyam Yadav, a resident of Mahrajganj, told me.
It is a common grouse against Lalu. Nothing works in Bihar. Teachers don't attend to students, doctors don't attend to patients, the police don't attend to complaints, government employees don't attend to files and politicians don't attend to their constituents' needs.

At every meeting we attended, most people are not dressed for Bihar's harsh winter.

But people seemed resigned to their fate. One keeps hearing that winds of change are blowing across the state. That is what exit polls have suggested. But one is not sure if Bihar is ready for a change.

At the end of a hectic day of campaigning, one thought one had seen three Lalus -- one for the television cameras and non-Bihari India. For them, Lalu hides his razor sharp mind and poses as a buffoon. Yes, he never misses a chance to establish himself as the leading secular leader and a messiah of the poor and the downtrodden. "Swarg nahin lekin swar diya (I have given them a voice if not the heaven)," is a line he often uses.
Another Lalu is the ruthless politician, a social engineer who exploits human insecurities to keep his vote bank intact.

The third face of Lalu is that of a conservative Hindu unhappy about changing times. His five daughters are growing up and studying. They are shy and silent at home. Two of his daughters are married.

His younger son plays cricket and the elder one, Tejas, rides horses and plays polo. The boys are disciplined.

Lalu's wife, Bihar's Chief Minister Rabri Devi, is happiest when serving her husband and children delicacies from her kitchen.
Lalu dislikes Valentine's Day. He resists anything that is vaguely Western. Except for his imported glasses and high-quality branded woollens, he tries to avoid Western brands.
But the mukhiya of Bihar does not have the aptitude to understand a world that is changing so fast.

Lalu is so many things to so many people. But the question is -- does he know who he is?
Headline Image: Rahil Shaikh