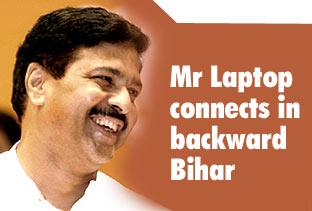 Pramod Mahajan, the high-flying Bharatiya Janata Party leader known for his love for gizmos, has addressed 65 meetings in the dustbowl of rural Bihar. That number is higher than the number of meetings addressed by any other BJP leader, including L K Advani, Shatrughan Sinha and Uma Bharti. Among the BJP rank and file in Bihar, Mahajan is by far the most sought after leader in this election.
"I have seen much more poverty in Bihar than I have seen in Kalahandi in Orissa," says Mahajan. And in Lalu land, the man who carries two cellphones is making all the right moves. He is talking of development and playing the secular Hindu card with style. He has also taken a leaf out of Lalu's book of theatrics.
If the Janata Dal-United and BJP alliance succeeds in Bihar, it will give Mahajan a weapon for when the war between the second rung leaders intensifies in the BJP.
Just what is Mahajan saying to connect with the masses in Bihar? For starters, he is modulating his voice and body language with the dexterity of a rural Maharashtran folk artiste. And the way he is bashing Lalu is a treat to Biharis.
On February 20, in Lalu's home town, Gopalganj, Mahajan was at his best in front of a village audience, the majority of which didn't even have chappals to wear. Excerpts from his speech:
"Lalu is asking who set fire to the train in Godhra. Is Godhra next door to Gaya? Godhra is 2,000 km away from Gopalganj. When did Godhra happen? It happened 1,000 days ago. At this rate, if at all Lalu wins this election and comes back to you after five years, he will ask who burnt Lanka! Dear brothers, how is Lanka relevant?
"Laluji, Bihar's real issue is not who started the fire in Godhra. The real issue is that after ruling Bihar for 15 years who lit the fire of hunger (yeh bhookh ki aag kisne lagayi)?
"If Lalu has fooled Biharis he has fooled Muslims much more (Biharioko murkh banaya hai, Musalmanoko mahamurkh).
"He has demonised the BJP. He says if BJP comes to power, it will eat you away. He doesn't give you education or basic necessities. I feel sorry to see the Muslims of Bihar carrying Lalu on their shoulders for the last 15 years. After this election, let five Muslim brothers come with me to Gujarat. Gujarati Muslims are the richest Muslims of India and Bihari Muslims are the poorest.
"Lalu is a joker (maskriya hai). He has turned Bihar into a joke. He doesn't keep accounts; he doesn't want to be accountable. He neither reads nor writes. He doesn't want you to read or write either.
"A few months ago, did you see his lathi (stick) rally? Why brother, why such a rally, for who? He claims it's for the security of people. Since the last 15 years your government is in power. The police are yours. The administration is yours. Then, why do you need a lathi rally? People are being kidnapped and he is asking us to oil our sticks (Yeh Lalva beta humko kahta hai lathi ko tel pilao)!
"In the villages, people don't have drinking water and he is asking you to oil the lathis. If he comes back to power he will once again ask you to oil them. But if Nitish Kumar's government is formed we will fill your pen with ink and lead Bihar to progress.
"I don't believe in caste. God never asks which caste you want. Neither did god decide that 450 Baniyas and 300 Dalits and 300 Muslims should be born in this village. We don't have a choice in that. But I am requesting you to be Biharis this time. Vote for Bihar's progress.
"When you look at Bihar from the sky, you can only see chimneys of brick kilns. There is not a single project on this land. People have died demanding a bridge on the Bagmati river but Lalu has not done anything. Today I wanted to land in Bairganiya. The captain of the helicopter could not find the place. So we landed at Masahi village to get direction. I asked a villager, 'Do you have a hospital in this village?' He got confused. 'What is a hospital? Is it the name of a bird,' he asked.
"In Bihar, if you find a hospital, you won't find the building. If you find the building you won't find the doctor. If you get lucky and find the doctor he may not be available at all. If he comes, he doesn't see patients. If the doctor obliges by giving a prescription, Biharis don't find the medicines. Aur jab dawa milti hai tab tak patient mar jata hai (The patient is dead by the time the medicine is found).
"In his speeches, Lalu says, 'Lathi is my thermometer.' I wish him good health, but if you falls sick Laluji, don't call the doctor. Call me, I'll come with a lathi to measure your fever.
"In Bihar, you can't make out if there are potholes on the roads or the other way round. The other day, I was going to Patna. I asked a friend how far Patna was from Nawada. He said four-and-a-half hours. I told him, 'The world over roads are measured in kilometres. Do people in Bihar measure roads with a watch or what?'
"My friend said it's useless to measure distance in kilometres in Bihar. Raste main gaddhe kitne hai us per se tai hota hai ki gaon kitna door hai (the distance depends on the number of potholes on the road).
"He told me, 'You are in your udan khatola (chopper) during day and in your Toyata Qualis in the evening. But the roads in Bihar are so bad that when I travel on a two-wheeler with the wife, every two minutes I have to keep checking hai ke gayi (is she there or gone)!'
"After 15 years of rule, is this the development you deserve? If I ruled this state for 15 years and after that I found one pothole I would have died of shame and would have never come back to you to beg for votes (chullu bhar pani main dub marta per vote magne nahin ata).
"Lalu says, 'Why do you want roads? I am coming in a chopper and you are using cycles; so why do you want roads?
"Day before yesterday, my pilot said he would not land here. I asked him why. He said,
"Look around the helipad. There are so many electric poles. I don't want risk hitting the poles. Our chopper will catch fire. I don't want you to die nor do I want to die.'
"I told him coolly, 'Is main bijli-vijli hai nahin, aram se utar humen kuch nahin honewala (the poles don't carry electricity in Bihar, land without worrying)'
"When the state chief's election motif is a lantern, do you think people will get electricity? He is using battery cells in his lanterns and he sells kerosene at Rs 40 for your lanterns.
"You must be thinking Lalu is a fool. No, he is shrewd. In India one out of every four person is poor but in Bihar every other person is poor. Poverty in India is 26 percent, in Bihar it's double. In Bihar half of the population is uneducated.
"One day, I asked Lalu, 'So much is printed against you in newspapers and so much is shown against you in television but how come you are winning election after election?'
"Lalu said, 'How does it matter what newspapers are printing? My voters are uneducated.'
"What about television,' I asked. 'Even an uneducated person can watch television.' Lalu quipped: 'He will see television only when I will give him power supply, na?'
"Lalu knows till the time Bihar is hungry and uneducated his rule is secured. When Biharis will get education and be connected with the world they will throw Lalu out.
"Before the election, Lalu saw voters are against him. He then thought of dividing votes.
"Paswan says he will not go with Lalu for his next seven births but he is lying -- he went with Lalu in just the last Lok Sabha elections
"Do you know how poor Bihar is? I told a voter the symbol of Paswan's party is a jhopadi (mud hut). He said, 'No sir, it's a bungalow.' People in Bihar are so poor that voters find even a mud hut as grand as a bungalow.
"What do you think will happen when this bungalowwallah will win? I fail to understand Paswan. What does he want? When we asked him to join us and be chief minister he refused. We offered him the post because we wanted Lalu out so that Ravan raj ends.
"Paswan will never get more than a dozen seats. Even if he gets a little more, he is going to join Lalu. If Paswan refuses in Patna he will be chucked out of Sonia's government in New Delhi. Lalu will switch off Sonia's television with his remote control in Patna
"Paswan is here to save Lalu. This is what we call matchfixing in cricket.
'This is not an ordinary election; this is a rebellion (bagavat) by the people. On February 23, go to the polling station and make sure Jayaprakash Narayan's unfulfilled dream of total revolution is fulfilled by pressing the kamal chhap (lotus, the BJP symbol) button."
Photograph: Vikas Khot/AFP/Getty Images
Image: Uday Kuckian