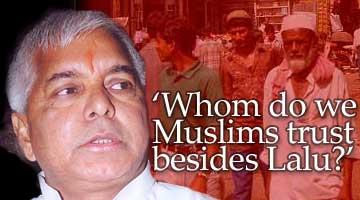 In his final dispatch from the area of darkness, Deputy Managing Editor Amberish K Diwanji reports about the dilemma facing voters in Bihar.
Part III: A village that symbolises Bihar
Part II: 'Lalu is a rascal, but we'll vote for him.'
Part I: In Bihar, silence is golden
The second phase of Bihar's assembly election was primarily held in the northeastern part of the state. This part is, in a sense, perhaps the most crucial to the poll outcome, since Muslims form a large proportion of the population -- the Rashtriya Janata Dal is banking heavily on Muslim votes to return to power.
In Kishanganj district, the Muslims are in a majority.
In popular perception, Muslims are perceived to vote en bloc, one reason why many parties try to woo them at all costs. Often, this en bloc voting is not a reflection of any particular choice but rather a lack of choice.
In 1990, Muslims voted for Lalu Prasad Yadav on the basis of class rather than religion. Lalu then had the backing of most of the state's poor. The Congress was increasingly seen as a party dominated by the rich and upper castes. The Bharatiya Janata Party was still seen as an upper caste-cum-traders party.

In 1995, with the Babri Masjid demolition fresh in their minds, the Muslims had no option but to root for Lalu. In 2000, with the National Democratic Alliance, led by the BJP, in power at the Centre, the Muslims in the state again felt they had no choice but to back Lalu.
It was this combination of Muslims and Yadavs, who together form a sizeable proportion of the state's population and are considered to be Lalu's traditional vote base, that made the RJD invincible at the hustings.
But now, with a Congress-led United Progressive Alliance in power at the Centre, poll pundits believe the Muslims are likely to desert the RJD. What is not clear is how many will do so when alone in the polling booth. Will the Muslims prefer a change with the promise of progress or prefer the known devil to an unknown devil? After many years, the Muslims do have a choice but it isn't an easy one.
"The Muslims will not vote for the RJD," insists Dr Farman Ali, who has studied Unani medicine and is politically active and articulate. He is a member of the All-India United Muslim Morcha that is seeking reservations for the backward within the Muslim population. He has firm views and airs them confidently. But his views don't necessarily reflect the views of the Muslims in his village even if he believes they do.
I am at Taraihali village, on the Samastipur-Darbhanga road, in Darbhanga district. Farman Ali, in his late 20s, looks quite middle class, wearing a clean and new white coloured jacket. He lives in Taraihali but frequently visits Patna and even Delhi as part of his political activities.
Sitting with us are many of the villagers, many in old or torn shirts and lungi, some, of course, in shirt and pant. Farman Ali is clearly anti-Lalu. "What has he done in all these years? There has been no development, no jobs, no roads, nothing," he says.
Many of the villagers nod in agreement. But hasn't Bihar always been lacking in development? So why blame Lalu?
The answer that emerges is interesting: the real anger is not that Lalu failed in the last 15 years but that he failed them in the last five months. Taraihali and much of its neighbouring regions were badly flooded in September after incessant rain. "Water had reached shoulder level; many huts destroyed," complained villager Usman Ali.
Immediately after the floods, Lalu made a rash of promises: new houses, instant relief of Rs 25,000 and more to those badly affected, free crops, etc. And he failed to keep his promise.
That, for many, was a cardinal sin. "What use is this government that cannot help us in our hour of need," fumes Farman Ali. "We have no use for such a government and I am urging the villagers here to vote for a change."
But hasn't Lalu ensured a riot-free atmosphere in Bihar?
"Says who? Of course there have been riots in Bihar, it is just that the media has ignored them," he says.
But the reason the riots never became a big issue is simply because they were never major riots. They were always controlled, as another villager, Mohammed Mumtaz, points out.
Mumtaz is sympathetic towards the RJD. "At least, Lalu ensured that Bihar never became a Gujarat, that we were not killed in thousands." He then gets into an argument with Ali.
The divide is evident: Ali, with his middle class aspirations, clearly wants to do better and seeks development and jobs; the poor, leading miserable lives and always the first to be affected by riots or clashes, want safety.
Moving away from the crowd that sought not to oppose Farman Ali, I meet Anwar-ul Haq, who runs a small telephone booth. What are his views?
"Lalu did very little when he really should have done more, and many of us are angry and not really in a mood to forgive him," Anwar says.
Anwar's business is directly linked to development: if the road through his village is better and some industries come up in the region, more vehicles and people will ply through his village; more people means more customers at his shop; that means more earnings.
It is a simple equation that Anwar understands very well: he badly craves development.
"The problem is, whom do we Muslims trust besides Lalu?" he asks, and ponders for an answer. For him, the two alternatives -- Ram Vilas Paswan (who has a poll agreement with the Congress, but is an ally of the RJD at the Centre) and Nitish Kumar (who is very popular but whose ties with the BJP are frowned upon) -- are suspect.
"The fear is that Nitish is linked to the BJP while Paswan might easily dump the Congress and tie up with the BJP to become chief minister. Then we Muslims might be in trouble," Anwar answers his own question. "Which is why at least some of us might still vote for Lalu again."
Farman Ali pooh-poohs such fears. "Nitish will keep the BJP in check. He is a good leader and a better administrator. Paswan too is a choice, especially since he is with the Congress, which will not let him have links with the BJP."
Usman Ali says he is not bothered by such 'high' politics. "What angers us is that he (Lalu Prasad Yadav) has not even helped us after the floods. Help was promised under the Indira Awas Yojana but never implemented. Even what is available and due to us is not being given to us. Under such circumstances, we are looking at other alternatives," he adds.
The problems of Taraihali are no different from the rest of Bihar; the situation is no different either.
The Muslims are among the poorer segments, most of them don't own land and those who do might at most own a bigha, usually less. Their neighbours are poor Hindus, mostly of the backward castes, and also some Rajputs (many of whom are quite poor themselves).
The poor are the ones who leave the village for jobs. They are the ones most hurt by the lack of opportunities in Bihar, and clearly want an alternative that can speed up development.
The poor Hindus of the village, almost to a man, are against Lalu. They promised to vote him out. "He made so many promises after the floods and did absolutely nothing. He has not visited us after making the promises. We will never vote for him," thunders Jeeva Singh.
Jeeva Singh is a Rajput who returned to his village two years ago after working in Kolkata. His home is opposite a Muslim locality. He has seen a better world and wants the same in Bihar.
So have the many Muslims who work elsewhere; they have seen the prosperity elsewhere. But they have also seen, at least on television, the images of a 'burning Gujarat.' And they have the difficult task of choosing between the known devil and no development and the unknown deep blue sea and likely development.
Image: Rahil Shaikh