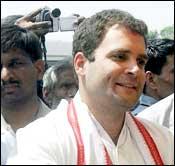 Rahul Gandhi on Monday kicked off his election campaign in Amethi by a taking off on a whirlwind tour of the constituency vacated by his mother and Congress president Sonia Gandhi for him.

Rahul got a rousing reception at Shilauli as he entered the constituency a week after being nominated by the party to contest here.

Amethi was once represented by his father, late Rajiv Gandhi.

Striking an emotional chord with the people of the area, Rahul, 34, recalled his family's ties with the constituency.

Speaking to reporters after going around in the area, he said that there are "a lot of issues" in the area and unemployment alone is not the problem.

Brushing aside attacks on his family, particularly his mother Sonia Gandhi on her foreign origins, an emotional Rahul Gandhi said, "Our hearts are Indians. They beat for India. You can abuse us, you can kill us but it will still beat for India."
"I have learnt to be an Indian from my mother. My father is my hero," the 34-year-old told reporters during an informal interaction. "We don't need to (counter) attack viciously. These are peripheral things and don't matter. If your aim is right you are going to go on, come what may. We have been taught in our family to do what we feel is right.
"My father (Rajiv Gandhi) was under attack for 17 years (over kickbacks in the Bofors deal). I sometimes asked him why he did not counter-attack and he replied that we should be doing what we think is right and not bother about these things."
To a question why he joined politics, he said, "Politics has hurt my family. My father and grandmother were killed. But I know that they were proud to have been killed for the country."
He expressed confidence that Congress would form the next government at the Centre but hastened to add, "Elections come and go. What is more important is that you have a goal and you stick to it."
Rahul said first and foremost it was to win the elections from Amethi. On being projected as the saviour of Congress, particularly in Uttar Pradesh, he admitted that it was a big task.
He denied being a shy person. "This is only a media perception."
| | |
| --- | --- |
| | Also Read |
| | |
Rahul, who visited the constituency for the first time after being nominated as Congress candidate for the Lok Sabha elections, had his lunch sitting in the fields, and said "I felt emotional while interacting with the people of Amethi. I remembered my father. I had come here with him in 1982."
He said he was confident that the people would shower their love and affection on him and that he would win.
Hundreds of Congress activists awaiting his arrival since early morning raised slogans welcoming their leader. A group of motorcycle-borne supporters then led Rahul's motorcade through the dusty, winding roads of the constituency.