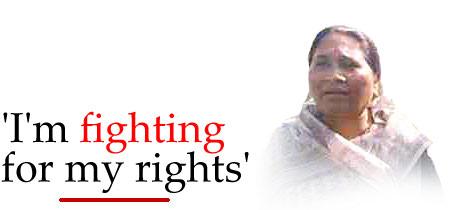 If you think Chhattisgarhi women are meek, think again. Rural Chhattisgarh is unique in its equal rights for women. Chhattisgarhi men travelling to nearby villages are always accompanied by their wives. Riding pillion on their husband's bicycles -- the popular mode of travel -- or walking miles barefoot to work in paddy fields, Chhattisgarhi women represent the free and determined spirit of this region.

Little wonder then that Chief Minister Ajit Jogi is facing a stiff challenge from a Chhattisgarhi woman in his own constituency, Marwahi.
Meet Hemwant Porte, a known name in Marwahi. Her late husband, Bhanwar Singh Porte, won this seat three times. In the Congress till early this month, she left the party after being denied a ticket and joined the Nationalist Congress Party.

In an interview conducted in village Nimdha near Marwahi, she said: "I'm fighting for my rights. After ten years as a social worker, I have a right to represent this seat. Nobody can deny me that right."
Not only Jogi, she is miffed with the media too. "Why should I talk to you? There are so many media people coming to me, talking for hours and then they disappear without writing a single word about me," she complained. When requested to answer just one or two questions, she agreed. Excerpts from an interview with Jyoti Shukla:
What are your chances of winning?

Everybody contests an election to win. I'm also fighting to win this election.
You had been associated with the Congress. Then why are you contesting from another party?

Because Ajit Jogi deceived me. Last time also (in 2000 by-election) he promised me a ticket in the next election. My husband did so much work for this region. I worked with him for ten years. Still I'm denied my right to represent this region. I'm fighting for my rights. Everyone has to."

Did Chief Minister Jogi try to persuade you to take your nomination back?

Yes, he did.

What was his offer?

He said 'I will make you a member of the Rajya Sabha'. But last time also he had said that I would be given ticket from this constituency. Even after ten years of my social work here, I'm denied representation of my own people. So I decided to fight against him.
He is the chief minister. How can you defeat him?
So what? People in this area know my family very well because of my late husband's work. I came to Marwahi after my marriage. I studied after my marriage, although I could not complete my college education because of household responsibilities. But I have been very active as a social worker. I have worked hard for people here and they will vote for my work.