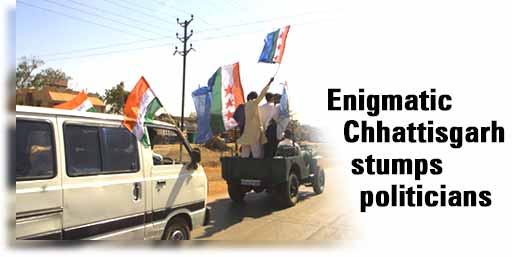 Travelling through Chhattisgarh's third most populous district Bilaspur, it is hard to believe that the three-year-old state is going to have its first assembly election ever, a bitterly fought contest, within the next three days.
Neither Bilaspur town nor the surrounding villages show any sign of fierce political activity. There are hardly any posters or banners anywhere and people seem to be keeping a safe distance from visiting politicians.
Passing through the serene, beautiful countryside from Bilaspur to Kota, Pendra Road, Gaurelaa, crossing the River Maniyari and the lush, green sal and bamboo forest of the Achanakmaar wildlife sanctuary, through tens of small villages dotting the Maikal hills of the Satpura range, one can hardly see a few Congress flags fluttering atop mud huts or cycle repair shanties. No other party or candidate's presence is visible.
Almost 160 km away from Bilaspur is Marwahi, centre of media attraction and Chief Minister Ajit Jogi's constituency. But it is hard to find any enthusiasm for the election at any place along this route.
Villagers are mostly busy with farm work, as it is the harvest season. Ask who they will vote for and you get varied answers. The most common one is, "We will think about it when it's time to cast the vote." More vocal villagers will make some scathing remarks about politicians, or even journalists. Like the milkman in Chorbhattikala village.
When I asked villagers enjoying the morning sun near the village pond who they were going to choose, the passing milkman commented in Chhattisgarhi mixed with English: "Hum kono la vote den jitehi kaun e to aap man par depend karthe." (Whoever we vote for, it depends on you people who wins.)
Everyone wants to know first what you think of the situation and, invariably, a Chhattisgarhi will agree with your assessment. You think the Bharatiya Janata Party will win? Well, of course it will win. You think the Congress is going to come back to power? Absolutely! You think there will be a hung assembly? Exactly! That's what he thinks too.
That's a typical Chhattisgarhi trait. Whether you are talking to a city-dweller or a villager, you cannot fathom who they are going to vote for. They keep quiet, then deliver stunning results. It happened in 1977, when Indira Gandhi and the Congress were routed in this Congress bastion. This time too, the average Chhattisgarhi is keeping aloof from the election campaign and nobody -- neither leaders nor political pundits -- is able to comprehend which way the wind is blowing.
In urban areas, there is a strong anti-Jogi undercurrent. You need to search hard to find a Jogi sympathiser. "Jogi must not win" is the worried whisper going around in all camps, whether it's a Congress camp or an anti-Congress camp. But ask if they are going to vote against him and they all clam up.
This clamming up of the voters is what is making most of the candidates uneasy. Very few candidates are sure of victory, especially because most of them are involved in triangular fights among the Congress, the Nationalist Congress Party, and the BJP.
As far as the Chhattisgarhi is concerned, there are just three leaders in the fray -- Prime Minister Atal Bihari Vajpayee, Chief Minister Ajit Jogi, and the NCP's local boss, V C Shukla. The rest are just representatives of these three personalities.
From the looks of it, the voters have still not made up their minds which of these three leaders to back. Or, perhaps, they have, but are simply keeping their cards close to their chests.
Image: Uday Kuckian