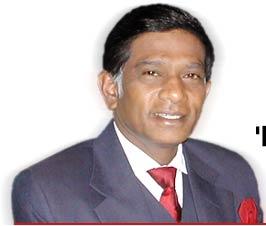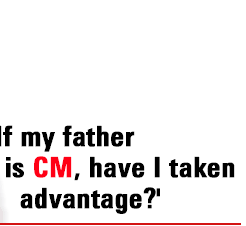 Amit Jogi, son of Chhattisgarh Chief Minister Ajit Jogi, was dragged into the Dilip Singh Judeo bribery scandal when he was accused of having hatched the plan to entrap the Bharatiya Janata Party politician, who till then was being projected as the BJP's candidate for chief ministership. Earlier, his nationality and American passport were the subject of media speculation.
Right now, Amit Jogi is camping in Marwahi, handling his father's election campaign, while the chief minister travels over the rest of the state, relying on his son to ensure his victory.
You hear so many things about his father -- it's hard to hear a good word about Ajit Jogi nowadays in Chhattisgarh -- that you are ready to believe that Amit Jogi is no less than a spoilt brat. So you get a shock when you see him for the first time.
Soft-spoken, bespectacled, clad in a simple shirt and trousers (not khadi, though), looking younger than his 25 years, and treating people around him with much more maturity and respect than the average 25 year old, Amit Jogi is almost invisible behind a wall of common people.
He does not hesitate to scold an elder political ally asking him to "stop indulging in publicity, get involved in governance," but grandfatherly villagers are treated with due respect and civility.
Once he is away from the crowd, Amit Jogi surprises you again by shedding all trace of that quiet authority and speaking from the heart about the uneasiness that comes from being in the public eye. If Ajit Jogi's cold gaze can be unnerving, Amit's sheepish grin eggs you on to ask as many questions about his father as you always wanted to, but didn't dare.
He answers without hesitation, and whenever he tries to say something politically correct, he struggles to keep a straight face, and even you cannot resist grinning back at the absurdity of the situation.
Sitting in a spartan room furnished with a bed, two small writing tables and chairs, and one decorative piece, a map of Chhattisgarh mounted on a wooden plank, he talks freely.

"I am not interested in politics," says Jogi, Jr. "I am here only for my father, my family."
About his role in the campaign, he says, very politician-like, "I have never gone out and asked for votes because this place is like family for me and you don't have to ask for votes from your family."
Asked a more ticklish question about his American citizenship, Amit Jogi says, "Yes, I had an American passport because I was born in the USA. Nobody can choose his or her place of birth."
Then why did he come back? "I would be lying if I said I came back because of patriotic feelings," he confesses. "Those feelings may have been there, but there was only one reason for my coming back -- my sister's death. I am the only son in my family and I had to support them."
But he does not consider this a sacrifice of his dreams. He hesitates a second, then looks you straight in the eye and answers: "I come from a service class family. Having an American passport was a big dream come true for me. I could have had so many opportunities there. I did want to go abroad, but then I stopped thinking about it. After all, your family is all you have got in this world."
He smiles as he says this, but you can sense the loss and longing for a life that any other 25 year -old would dream about.
You move on to the Judeo scandal. "Whatever happens here, my or my father's name is invariably dragged into that," he says. "So the Opposition is dragging my name in this scandal too."
But wasn't that his email address which was published in some newspapers (the Central Bureau of Investigation had found an email purportedly sent by Amit Jogi and claiming success in some 'Tehelka-like mission')?
"Of course it is mine," Amit cuts in, still speaking softly. "But if you pay attention to the television news in the tape, it is clear the conversation took place in November. And my mail was sent some time in August. How could I have known what was going to happen after so many months?"
Surprisingly, despite what has happened, not once does he betray any kind of contempt for his father's political adversaries. And he admits that Ajit Jogi is a dictator. "But he is a dictator for those who oppress poor people and tribals, abuse their rights."
So where does he see himself after the election? (Perhaps now he will let slip his plan of helping his father further?)
"I'll go back to doing what I had been doing before the elections."
And that was? "I am a second-year student of law in Delhi. Before that I did my master's in international politics from JNU [Jawaharlal Nehru University]. So I'll go back to student life."
And what after he is done with his studies? "Well, I can't become a doctor, can I"? he counters. "If I'm studying law, I'll naturally become a lawyer."
And what after becoming a lawyer?
"The central government is not doing much for the youth," he says. "The young generation's future is not bright. I am also young, my future is the same as theirs."
But he is the only son of a chief minister, surely he does not have to worry about the future like other common young men?
"Why?" he wants to know. "If my father is CM, have I taken advantage of that? There are so many sons of other politicians snatching this or that political post. I have not got any such post. I will have to go back to being a student."