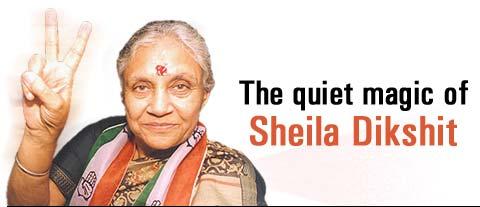 Envious Congress members of the Lok Sabha tittered when Rajiv Gandhi's new minister of state for parliamentary affairs went around trying to cool the tempers of Opposition members during an acrimonious debate.
"Madam, sit down," Professor K K Tewary, a member of what was then known as the Congress shouting brigade, called out, "there is no use, our worthy opponents on the other side are wild, you cannot tame them."
His barb, of course, was directed more at the nervous lady than the unruly Opposition members. But it failed to unsettle her and she went about her business with determination.
That was in 1986.
A year later, Sheila Dikshit's detractors within the Congress watched in awe as Prime Minister Gandhi, impressed with her work, gave her additional charge as minister of state in his own office.
Today, as Dikshit seeks a second term as chief minister of Delhi, she looks invincible. In fact, she is the only chief minister in the party led by her late boss Rajiv Gandhi's wife Sonia whose re-election is a foregone conclusion, if opinion polls are to be believed. And the party has Dikshit's administrative acumen to thank for this.
Not only has her government converted Delhi from a city of doom to a city of boom by giving it a facelift and improving infrastructure like roads and overbridges, it has also ensured -- though with more than a little prodding by the Supreme Court -- that vehicular pollution is brought under control and polluting industrial units are relocated outside the city limits.
These measures have changed Delhi's profile from that of a hopeless, ageing metropolis bursting at the seams (a population equivalent to that of Pondicherry is added to Delhi every year, according to one estimate) to a modern city catching up with its Western counterparts.
"They [the pre-poll surveys giving the Congress a clear edge in Delhi] may be there, but Sheilaji is not celebrating yet," Congress Treasurer Motilal Vora told rediff.com "She is the kind who understates instead of exuding overconfidence. But she is widely held in high esteem, thanks to her single-minded devotion to her work." This is a point even Opposition leaders concede, though grudgingly.
When rapidly mounting vehicular pollution, particularly by the city's 12,000 smoke-belching diesel buses, began choking Delhi-ites in 2001 and the Opposition BJP raised Cain, the Supreme Court put its foot down and rejected the Delhi  government's plea to extend the deadline for converting the vehicles to compressed natural gas fuel.
Dikshit appeared to be trapped between the court's insistence that only CNG buses would be allowed to ply in the capital and the bus operators' claim that they could not afford to make the conversion, which was both intricate and costly.
Recalling those days, Delhi Transport Minister Ajay Maken said, "Sheilaji was under tremendous pressure to meet the Supreme Court deadline and the private bus operators' plea. She had to reckon with irate parents of schoolchildren inconvenienced by [diesel] buses going off the roads. But under her stewardship, Delhi has cleaner air to breathe and all buses in Delhi have CNG."
Of course, Maken is quick to point out that the BJP did not help the cause of cleaner air when, just before demitting office in late 1998, the government led by Sushma Swaraj bought 1,800 diesel-powered buses knowing fully well that they would have to be replaced by CNG vehicles.
But today he is proud that vehicles that do not meet Euro II emission norms are no longer registered in Delhi. The capital now leads the way in combating pollution.
Over the last year, sections of the Delhi Metro railway system have also become operational in phases, but the ambitious project has become a bone of contention between Dikshit and her BJP rival, former chief minister Madan Lal Khurana, who has been demanding credit because it was during his tenure that a separate fund was first earmarked for it.
The quarrel became so loud that even the inaugural function on December 24 last year was not spared. Dignitaries like Prime Minister Atal Bihari Vajpayee and Deputy Prime Minister Lal Kishenchand Advani had to endure the embarrassment of a slogan-shouting match between BJP and Congress supporters when flagging off the Metro's maiden run.
Of course, Dikshit's successes in combating pollution, improving roads and streamlining traffic does not mean the city is in the pink of health. Power and water continue to be two areas of concern where successive governments have failed to live up to citizens' expectations. Neither the BJP nor the Congress can claim credit, at least as yet, for having solved either of the two chronic problem areas, with shortages the norm, especially in summer.
Congress General Secretary Ambika Soni argues that the Dikshit government has implemented power reforms in the region and their positive impact is certain to be felt by citizens "eventually." But she adds that "the days of free lunches (read power theft) in this vital sector are over."
"If you look at the BJP's record," Soni continued, "you will find it has been a miserable failure in Delhi and not just in power and water. These are admittedly problem areas, but we at least do not make excuses like our rivals."
One other very important quality has, together with her administrative acumen, contributed to Dikshit's success. And that is the political maturity she has displayed in handling the faction-ridden Congress party in Delhi. Not only has the chief minister lasted her full term of five years without any real threat to her leadership, she has succeeded, despite various pulls and pressures, in getting the maximum number of election tickets for her supporters.
Though envious party colleagues tried to fan the occasional whisper campaign against her, Dikshit continues to enjoy the support and confidence of Congress president Sonia Gandhi, who, like her late husband, recognises her abilities and trusts her judgement.
Little wonder then that even as far back as six months ago, polls had shown that the BJP would come out second best in Delhi when pitted against Sheila Dikshit.
Photograph: Sondeep Shankar/SAAB Press. Image: Uday Kuckian