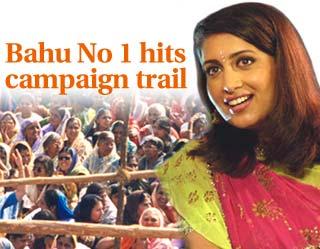 "We have found a counter to Sonia Gandhi. We have found an Indian bahu to counter a foreign bahu," a senior Bharatiya Janata Party leader said soon after Smriti Z Irani's induction into the BJP fold last week.
Smriti, of course, is Indian television's best-known -- perhaps, even better known than Indira Gandhi's daughter-in-law -- bahu, aka Tulsi Virani, the star of the soap, Kyunki… Saas Bhi Kabhi Bahu Thi.
Unfortunately for the BJP, while the 27 year old rules prime time, her off screen crowd pulling ability will require some work. The response to her first rally in Delhi's famed Chandni Chowk -- where the BJP's Dharmvir Sinha is pitted against Prahlad Singh Sawhney of the Congress -- was lukewarm.
But Smriti -- who once cleaned floors at McDonald's to survive in Mumbai -- is celebrated for her tenacity in telly town and can be expected to learn the ropes quickly.
She returns to the campaign trail in New Delhi on Tuesday, five days before campaigning ends for the December 1 election.
The BJP hopes her local antecedents -- Smriti, then Malhotra, daughter of a Punjabi businessman and his Bengali wife, lived in Vasant Kunj, south Delhi, before she moved to Mumbai -- will prove an added attraction.
"I will address three to four rallies per day, beginning November 25, till electioneering ends. Frankly, if you ask me where these rallies will be held, I have no clue," she told rediff.com in a telephone interview from her home in Mumbai, which she shares with her husband Zubin and children.
"The party is not trying to cash on the Indian bahu versus foreign bahu tag," she says. "We are emphasising on the work done by the party at the Centre and asking for votes in Delhi in the name of good administration and development."
For someone who is almost always in the limelight, she admits to a swarm of butterflies orbiting around her solar plexus when she stepped towards the microphone at Chandni Chowk. "I wanted to prepare a speech and read it out," she says. "But (BJP general secretary) Mukhtar Abbas Naqvi  told me it would be better if I spoke from my heart. Top leaders, including (BJP President M) Venkaiah Naidu and (local MP) Vijay Goel  were by my side. I felt nice. Their presence was a morale booster."
"I like doing social work," she says, explaining why she decided to join the BJP. "When I won Rs 12.5 lakhs on Kaun Banega Crorepati [the quiz show hosted by Amitabh Bachchan on the Star Plus television channel ], I donated it to the Cancer Patients Aid Association in Mumbai. After that, I received lot of letters and emails from people asking me how they could do social work. [Maharashtra's former deputy chief minister and BJP leader] Gopinath Munde told me if I wanted to do social work on a regular basis, I should join the Bharatiya Janata Party."
Of course, India's Bahu No 1 makes sure her family does not pay the price for her foray into politics. "How can you expect someone like me to neglect my husband and children [son Zohr is two and and daughter Zoish is two months]?" she asks  indignantly. "Before I came to Delhi, I stocked the house with vegetables and other essentials. I love my family."
Irrespective of whether Tulsi's magic works or not at the ballot box, expect the lady to play a stellar part in the BJP's star strategy for 2004's general election.
Photograph: Deepak Salvi. Image; Dominic Xavier