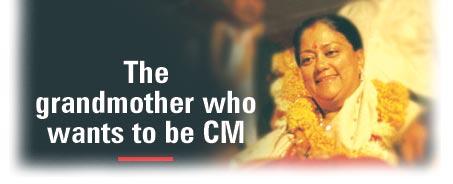 The good news is my granddaughter is now out of the ICU," Vasundhara Raje tells rediff.com, "though she is still on drip there is no major worry."
Vasundhara Raje is leader of the Bharatiya Janata Party in Rajasthan, and the person who will be chief minister should the BJP win the December 1 assembly election. With campaigning picking up momentum, there are many things on her mind and dozens of problems she must attend to. Yet, for this brief moment, as her Honda City takes her home to Jaipur from Chaksu, 45 kilometres away, she is not a politician but a worried grandmother anxious about Bhairavi, who is 18 months old. "If it had been worse I wonder if I would have even been able to campaign," she confesses.
Then, returning to the pressing business of leading the BJP to victory, she lists instructions for her assistant Dr H R Verma.
Vasundhara Raje's task is by no means easy. The BJP has just 33 seats in the current 200-member assembly. To take it to the halfway mark of 100 means tripling the current level. As election analysts will tell you, doubling is always possible, tripling is very difficult.
But Vasundhara Raje exudes confidence. "We will win," she tells rediff.com in an exclusive interview. Then, interrupting the conversation, she speaks to Union Health Minister Sushma Swaraj, thanking her for her support. "You were amazing. There was a crowd of 10,000 to hear you. We will take Rajasthan," she tells Swaraj.
Vasundhara Raje comes with an impressive lineage. She hails from the Scindia family, the erstwhile Maratha rulers of Gwalior. Her late mother Rajmata Vijaya Raje Scindia was a senior BJP leader. Does being a royal give her an unfair advantage? "I don't think it is unfair, but yes, it certainly is an advantage," she replies quickly. "Being from a royal background does open up doors, gives accessibility to people, and in a sense it also imposes a sense of duty."
But surely she had a choice of careers other than politics? "Politics comes naturally. As a youngster, I would accompany my parents, and later my brother (the late Congress leader Madhavrao Scindia) to villages inquiring about people's welfare, their condition. We would sit with them, hug them and we never saw differences. As a royal, one felt responsible for their welfare, their condition, and the people reposed faith in us. Under such circumstances, politics comes naturally," she said.
The Scindia family split along political lines after her brother joined the Congress while the rest of the family backed the Jan Sangh, and then the BJP. Madhavrao died in a plane crash in September 2001.
Did she miss him? "Very much," she replied, "we had our differences and we agreed to disagree, but he was always there to stand up for me. He would always be there if I needed him."
Vasundhara Raje married the Maharaja of Dholpur, which lies in northeast Rajasthan. She is the Lok Sabha MP from  Jhalawar, a part of southeast Rajasthan that literally juts into Madhya Pradesh, adjoining the Gwalior region.
Was Jhalawar a deliberate choice because of its proximity to Gwalior? Vasundhara Raje laughs, "Not really. The BJP leadership asked me to contest from there. I really don't know why. Once I went there I found since the Scindia estates surrounded Jhalawar on three sides, there were historical links that helped me."
What are the main issues in this election?
"Development," she replies without hesitation. "In the 1990s, (former Rajasthan Chief Minister and now Vice-President Bhairon Singh) Shekhawat laid the groundwork of infrastructure for development. Regretfully, in the last five years, little has been done. Drought has affected people across the state with little succour being provided to the people, despite aid from the Centre."
Is it not positive that after years of caste and religious issues, development is back as the debating point between political parties?
"Yes, thankfully that is a positive development," she says, "but caste as an issue is still not dead."
She blames Chief Minister Ashok Gehlot for recreating the reservation issue. "It was only because he was desperate to shift the focus away from his failure in development and in alleviating drought-linked problems that he suddenly raised the issue of reservations for the economically backward forward castes. By doing so, he hoped to put the pressure on the BJP since reservations in government services and education is a subject of the central government," she said.
Gehlot and the Congress, Vasundhara Raje alleged, are funding the Samajik Nyay Manch, which wants reservations for the economically backward forward castes. "How else did this organisation spring up from nowhere?" she asks.
Vasundhara Raje speaks in Hindi at public meetings while others speakers use the Marwari dialect.
Is she seen as an outsider in Rajasthan?
Her reply is quick and sharp: "How can I be an outsider? I am from this country. I am married to the Maharaja of Dholpur, and I have represented Jhalawar in the Lok Sabha."
Vasundhara Raje did her early schooling at Cathedral and John Connon in south Mumbai before shifting to the Presentation Convent at Kodaikanal, Tamil Nadu. She returned to Mumbai to do her college education at the city's Sophia College.
Her car is eating up the miles. The red light on top of the car is helpful, making other vehicles give way. Sitting next to this correspondent in the back seat is Dr Verma, dialing various BJP contenders and leaders on his mobile phone. When he gets through, he always says, "Maharaniji baat karna chahti hai (The maharani wants to speak with you)," and then passes the phone to Vasundhara Raje.
So how did people address her? Maharani or madam? "Madam has become popular these days, perhaps thanks to Sonia Gandhi," she laughs. "But madam is fine."
For the next 20 minutes or so, Vasundhara Raje speaks to various BJP nominees in the constituencies she is scheduled to address the following day. She also talks to party leaders about issues that need to be raised.
"I start my day at 6.30 and it ends late at night," she said. Vasundhara Raje reaches venues across the state by helicopter. This means her last meeting has to be scheduled at around 4 pm so that she can return to Jaipur by 5.30 pm latest, before nightfall. "At home there is work to be done," she adds. "There are people who want to meet you and the media that wants interviews."
As her car turns into her rented home in a posh quarter of Jaipur, there is already a small crowd seeking an encounter. It is 10.30 pm and it will be some time before this day ends.
Photograph: Uttam Ghosh. Image: Uday Kuckian