In the December 1984 Lok Sabha election from Gwalior, Madhavrao Scindia vanquished Atal Bihari Vajpayee. Such is the influence of the Scindias in Gwalior.
Madhya Pradesh is a state with a strong feudal tradition. Chief Minister Digvijay Singh hails from a royal family as does  former chief minister Arjun Singh. But the Scindias are in a league by themselves. Before 1947, the Maharaja of Gwalior was among only five maharajas who the British accorded the right to a 19-gun salute. After Independence, the Scindias' influence on the former Gwalior state has remained largely intact, with their strong presence in local politics.
Rajmata Vijaya Raje Scindia, Madhavrao's mother, was one of the founders of the Bharatiya Janata Party and a beacon for the Vishwa Hindu Parishad. Her daughters Vasundhara Raje and Yashodhara Raje are BJP leaders. Vasundhara Raje, a member of Parliament from Rajasthan, is the party's chief ministerial candidate in that state, which also goes to the polls on December 1, the same day as Madhya Pradesh. Yashodhara Raje, an MLA from Shivpuri, a two-hour drive from Gwalior, is contesting the assembly election for the second time.
Madhavrao was the Congress MP from Guna when he died in an air crash in September 2001. Jyotiraditya, his son, now represents the constituency.
The former state of Gwalior includes the areas known as Madhya Bharat and Malwa in Madhya Pradesh. 
The Scindias' Jai Vilas palace in Gwalior is huge and impressive. A few rooms on the right side of the main entrance have been set aside for political work. 
Harisingh Narwaya is Jyotiraditya Scindia's manager. When this correspondent enters his office, I hear him shouting on the phone. "Maharaj is coming there on the 19th. Do you have a place for the helicopter to land? You don't know! Then what are you doing on the phone? You tell the candidate to arrange for somebody who knows something to pick up the phone. I am calling from the palace, you tell him to call me."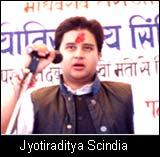 Narwaya has a list of Congress candidates for all the 46 assembly constituencies that fall within the Scindias' former province. "They have been rulers for over 250 years. After that, they have been involved in politics, naturally they will have a strong influence here," he says. Jyotiraditya's campaign has been conceived by the Congress party in New Delhi and in the state capital, Bhopal. "We get requests from candidates and try to accommodate them," says Narwaya. "We used to get more requests when Madhavrao was there but that depends on individual likes and dislikes." 
Jyotiraditya, he says, can spend more time in the area because, unlike his father, he does not have to keep an eye on national politics. "He likes to work," Narwaya says of the 32-year-old MP. "For the Scindias their former subjects are their extended family. They share their grief and happiness. They want to serve their people. That is why they entered politics. Jyotiraditya will carry on his father's work." 
Narwaya has known 'Maharaj' since Jyotiraditya was 12. Jyotiraditya will campaign in most of the 46 assembly constituencies that fall within the kingdom of his ancestors; the state Congress has provided him with a helicopter to cover as much ground as he can.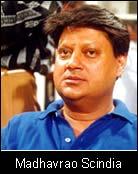 But can he fill the void created by his father's untimely death?
Deepak Vajpayee, campaign manger for Anoop Mishra, the BJP candidate for Lashkar East in Gwalior, believes Jyotiraditya is too young to do his father's job. "Madhavrao Scindia's seriousness, respectability and aura will come only with age. He needs a lot of time." Devi Singh Pehelwar, a BJP worker, echoes these sentiments: "Madhavrao was respected by people on both sides of the political spectrum. He used to maintain a relationship with everybody. His son will take a very long time to get there. Madhavrao was a worldwide leader, Jyotiraditya is not even a leader of Madhya Pradesh now." 
Mahendra Kumar Vyas, secretary of the Gwalior City Congress Committee, feels Madhavrao's "void is felt by all. Jyotiraditya is trying to fill the void. The public knows he is trying hard. He has their sympathy." An autorickshaw driver who lives near the palace has an interesting, if unsubstantiated, perspective on the difference between father and son. Madhavrao, he says, was very accessible. Common folk could meet him easily. Jyotiraditya, the rickshaw driver feels, is not a man easy to meet. 
Jyotiraditya won his father's Lok Sabha seat easily. But can he gather as many votes as his father did in the areas allotted to him this election? Will the people in this vast area relate to him in the same manner that they related to his father? The young aristocrat may need time, and, of course, the common touch that endeared his grandmother and his father so much to their former subjects.
Image: Lynette Menezes