England left-arm spinner Monty Panesar admitted that his first victim in Test cricket, Sachin Tendulkar, is also his hero.
"To get someone like Sachin Tendulkar is something I could never have dreamed about. Everyone hopes to get a wicket on their Test debut," the spinner told The Sun on Friday.
"But Tendulkar is a role model of mine and has probably been the best batsman in the world over the last 15 years. Since I started playing cricket, he was the one I have looked up to," said Panesar, after taking 2 for 72.
Panesar trapped Tendulkar leg before wicket for 16 and then claimed the crucial wicket of Mohammad Kaif for 91 to help England take the initiative in the first Test by the end of day 3.
Matthew Hoggard finished with six wickets for 57 runs as India were bowled out for 323.
The 23-year-old Panesar, full name Mudhsuden Singh Panesar, who was inspired by Indian legend Bishen Singh Bedi, is the first Sikh spinner to play for England.
Without doubt, Bedi must surely be impressed with his showing.
---
Hungry kya?
When you are hungry, you just can't help it.
The same goes for Mohammad Kaif, who took a few quick bites, before coming for the end-of-day press conference on Saturday.
"Keep your questions ready, I am coming," said the Uttar Pradesh batsman.
"Bahut bhook lagi. [I am feeling very hungry] give me two minutes. Keep your questions ready; I am sure you have a lot to ask," he said, much to the amusement of the waiting reporters.
Unlike an English player's press conference, where you can't even get near to the player courtesy the security personnel, Kaif's attitude was a welcome change.
---
Chappell enthralls ball boys
India coach Greg Chappell gave the young ball boys at the Vidarbha Cricket Association a pep-talk on Saturday.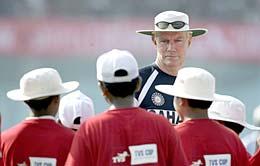 The former Australian batting great gave the kids some useful tips on batting and bowling, while stressing that fielding is very important in modern day cricket.
The boys, all aged below 15 years, were no doubt elated.
"He showed us how to play the leg glance. He also gave me some useful tips on how to bowl the in-swinger. It was great meeting Chappell," said 13-year-old Pinakin Godbole.
---
Rain, rain come again…
It rained again briefly in Nagpur on Friday evening a couple of hours after the end of play on day 3.
Though it was not as heavy as on Thursday, cricket-crazy fans hoped for a full night's rain and that the rest of the match be washed away.
"India are not playing well. I hope it rains and the rest of the match is washed away," said Mahesh, an autorickshaw driver.
After all, with England getting a crucial 70-run first innings lead and two days to go, Indian fans had every reason to hope that the weather would save their team.